Evie Rules
by Bill & Phyllis Chunn
(Hesperia Ca )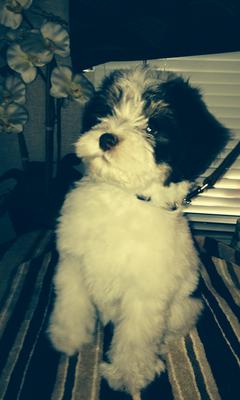 Evie Rules
Some months ago we had to make the difficult decision to put down our 13 year old Shiba Inu, Mandi due to health issues. We couldn't imagine ever loving another dog like we did our Mandi. However after having a dog for so long the house did seem empty, making the loss difficult to get over. My husband and I talked about it and we decided to research small breed dogs, perhaps one that doesn't shed. Bill is going to retire in a few weeks and we'd like to travel, so maybe getting another dog was a bad idea.

I did my research anyway; maybe it would work out somehow. I studied many breeds that have minimal shedding. A terrier of some sort might fit bill. In general Terriers are loyal, intelligent, and good companions. I looked at the Irish Terrier, Havaneese, Poodles, Maltese, and Yorkies but nothing really appealed to me. I had ruled out the Schnauzer as they were a bit larger than I wanted.

Then I discovered Schnauzers-rule site and the miniature schnauzer. This breed had the temperament we wanted, minimal shedding, and they like to travel! During my research I also learned about the White and Parti colored schnauzers. The Parti-colored puppies really appealed to us.

So it was decided; once Bill retires in January and we expect to be settled in our new home in Arizona we'd start looking for a breeder. I was so excited that I couldn't help but continue to research for breeders in Arizona. You know what happened next; I found our puppy. When I saw the photo of 'Girl 3' on the breeders website I immediately fell in love with her little face. I showed her picture to Bill and told him too bad we aren't ready to adopt because this is the cutest dog I've seen since we got our little Mandi all those years ago. Bill agreed and all logic went out the window! We called and she was still available, which I couldn't believe because she was just so damn cute.

We still live in California and she was Arizona. We picked her up on Black Friday. We named her Evie after a character in one of our favorite movies, High Road to China. We have no regrets; about adopting her when we did. It was the best thing we have done for ourselves. She makes us laugh everyday with her silly playful antics. She is 12 weeks old now and getting the hang of the command sit and does know the command "potty", however if the wind happens to blow a leaf nearby she must chase it down first.

When I return home from running errands I receive the most excited and enthusiastic welcome home. When Bill gets home from work you can't help but think she is going to wiggle her butt off she is so happy to see him. She can't replace Mandi but I am surprised at how comforting it is to have her in our family. She's made the loss easier to cope with. I think our favorite time of day is after dinner and our evening walk. We sit down to watch a little TV and Evie joins us, curling up in my or Bill's lap.

We have been through some trying times of late and one might think bringing home a young puppy would only add to our stress but quite the opposite has been true. She is truly a blessing.