JUMBO (Jumbito)
by Alberto Montezuma
(Chia, Cundinamarca, Colombia)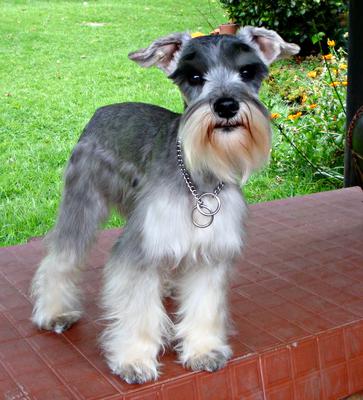 My precious little boy
Jumbo (Jumbito), the most precious gift I ever had, a little angel disguised in a cute Schnauzer costume. He and his beautiful sister Sasha (a queen, super model, and soccer player) were born at my country house and joined our family of twelve dogs (9 Schnauzers, one miniature Pinscher, and two mixed-breed) about three years ago.

From the moment I saw Jumbito at birth, I knew he was going to be something very special in my life, or should I say, in my heart. And he did. He had a strange but beautiful Beige color I had never seen before in any Schnauzer. This color started to fade away in the next months until the normal color began to appear. Then it turned into a silver-white color. He occupied the number one position, and his sister Sasha, shiny black, the number two. From the beginning he started showing a very unique behavior which put him above the rest and became my inseparable companion, along with Sasha. They both slept on a pillow next to mine. The only thing Jumbo could not do was talk.

In May 2012, while being in Africa, I received alarming news that my twelve dogs somehow had managed to get out of my country house (probably some evil hands let them out) and with a great deal of effort from my family and friends, all of them were recovered except one: Jumbo. The search ended at 7 p.m. The following morning a search of the area was conducted but Jumbito was not found.

Being in Africa, and very close to having a heart attack, doing everything by remote control was a bit complicated. However, I arranged for a massive search to be launched, based on the possibility that someone had stolen my precious jewel. Pamphlets were distributed, posters with Jumbo's photo were put on trees, lamp posts, and a hefty reward was offered. A vehicle with loudspeakers was hired, the police was notified, and an army of individuals willing to help was recruited. Several leads were investigated, especially one, of a school kid who showed Jumbito´s photo (from a pamphlet) to his classmates, telling them the dog was his new pet. With the help of the police, all the leads were dissipated.

Thirteen days later I started a Skype session from Africa with my family, when suddenly my wife stood up and left the computer in a rush without saying a word. I waited for about fifteen minutes when she reappeared on the screen with Jumbito in her arms. I could not believe it! What a great moment in my life! Jumbito had been found! Our gardener met someone on the road who had Jumbo's photo and told him he had just seen the dog. The gardener, the gentleman who saw the dog and someone else combed the area, and found him. They had problems trying to catch him, but finally Jumbito was recovered and was brought back to the house. He had lost a lot of weight, but otherwise he was in good shape.

Jumbito had never been outside the house, and it was clear to us that he just wandered off into a strange world he had never seen before, lost track of everything, and simply got lost in the vast open fields around my country house, where he remained for the next thirteen days. He was given a warm bath, was taken to the Vet for a complete checkup, fed him special formulas, regained his weight, and he was back to his own self, thanks God.

Despite having a good and highly remunerated job in Africa, and being able to come home for three weeks every three months, I decided it was time to return home for good. Jumbo played a big part in my decision, no doubt about it.

I returned on the 27th of September 2013. It was a great reunion with all of my dogs, especially with Jumbito. Ten days later, Jumbito fell ill, was immediately taken to the Vet clinic, his condition deteriorated, and passed away two days later. This was a tremendous blow to me and to all of us. I must confess that losing my dearest little boy has been an extremely excruciating experience, but the sweet memory of Jumbito will live on with a collection of photos and special moments that will never fade away.

Schnauzer of the Month Winner