Meet My Little Prince, Bruno!
by Brielle
(Baltimore, MD, USA)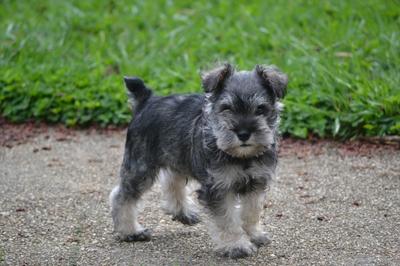 Bruno
My baby boy Bruno, also known as Pup! He came to be a part of my family as a college graduation gift from a friend in May of 2013, and we have loved him like crazy ever sense! He was purchased on impulse because he was as cute as can be in a pet store at the mall. My parents were skeptical about owning a dog but they love their new "GRANDPUP"!!

Bruno is a 4 month old male, purebred Miniature Schnauzer. He loves running in the backyard & sprinting through the house. He loves his rope & to just lay around relaxing like the prince that he is. His favorite snack are baby carrots & he loves long rides in the car. He's a sock snatcher, sneaking into the room to grab a pair of anyone's socks while they're not looking.