Meet Our Little Teething Terror
by Jessica Gonzalez
(Miramar, FL)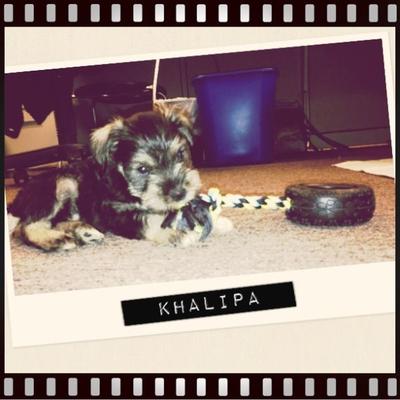 Mini Schnauzer puppy Khalipa
This is baby Khalipa! His name was chosen by my boyfriend's 9 year old daughter who is a Crossfit fanatic as much as we are and was inspired by one of the best well known crossfitters named Jason Khalipa (lol).

Khalipa is 6 weeks old and is teething... Any and everything in sight and he is biting away! He is the most adorable, can't take my eyes off him, playful little puppy ever! Everyone that has met him instantly falls in love just like we did when we first met him.

Khalipa was 1 of 5 puppies (2 boys and 3 girls) and we instantly knew he was THE ONE- he had us at HELLO. He loves to sleep with his belly up and is constantly looking for some playtime with all of us at home.

We can't wait to continue to share more pictures of Khalipa as he gets older. He definitely brings that extra little laughter and joy out of all of us at home. We love Baby Khalipa!