Meet our 4 generations of girls.
by Jayne rice
(Naples, fl)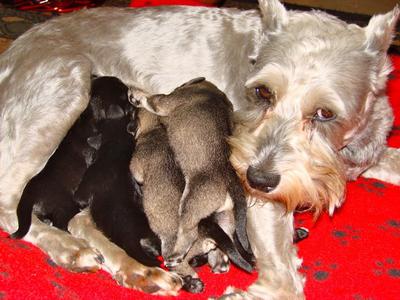 Wilma and her babies
It all started with Coco and meeting her mom, Lynn. She asked me if I wanted one, and always having had Golden retrievers, I said yes! So when Coco had her litter, I picked Beatrice, then when the time came for Beatrice, we had 4 pups and my husband said, If I have to have another I am going to call her Wilma, so when. Bea had 2 boys and 2 girls, I picked the grey girl and she is our Wilma.

Now Wilma had a litter of 6, 5 girls and 1 boy, so my granddaughters gave them all names because we couldn't just say. "Hey you!" We all looked liked the pied piper when they went out with their mom, grandmother and great grandmother! The one I picked from this litter "Happy Feet" and we kept her name because she is so happy and spunky!

We have 5 acres and these girls are the squirrel chasers of all time, all 4 of them when Coco is visiting. I keep Coco for Lynn when she goes away and she stays here when we go, so they are truly a family who plays together and stays together! What a wonderful breed of dog and they are just the best!