Princess Sookie
by Traci Merten
(Brampton , Ontario, Canada)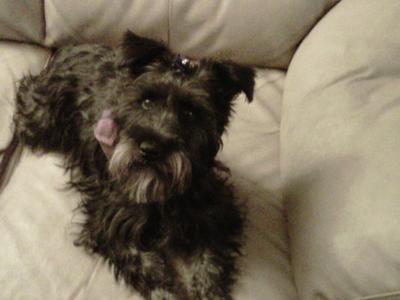 Meet our little princess Sookie
I had wanted a dog for a long time but i am alergic to most breeds. I would often look online just to see the beautiful dogs and of course yearn for my own dog. I finally found a hypoalergenic breed- a beautiful white mini schnauzer...i was in awe. I got my husband to agree to go see this dog but when we got there, we saw this cute little all black schnauzer cowering in the corner. I took one look at her and was 100% in love.

We got our little princess and she has become the most loving dog with such a personality. My favorite time of the day is when i come home from work and she is sitting there waiting for me and comes and gives me a kiss.

Sookies favorite toy is a bunny in a hat that is a puppet. She thinks she is hunting. Sookie will be 3 years old on May 10, 2013.