Tommy, Play Time!
by Victoria
(Leicester UK)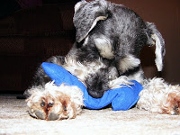 Tommy is a two year old Salt and Pepper tall Miniature Schnauzer. We bought him from a breeder in Ely in 2011 (he was born on the 12th February), his favourite toy is his new agility tuggy and the toy I made for him last year.

He is a bit spoiled but is very obedient, he knows 53 tricks including "speak", "twist", "feet" and "bang". He adores pretty much all games and we compete in Agility, we have won 18 classes at two different shows. He is my first dog and I love him to bits, he loves my socks to bits -literally.

He likes to destroy his toys to get at the squeaker in them, we have to repair/re-make his toys sometimes, which is why the one I made for him is so good because it's double canvas, he has broken the squeak though!

He is my life and without his little quirks such as, shaving tennis balls, destroying toys, stealing socks and sneaking on my bed to sleep when I'm asleep, he wouldn't be Tommy.