Miss Emma
by Donna J Mullins
(Narrowsburg, NY, Sullivan County)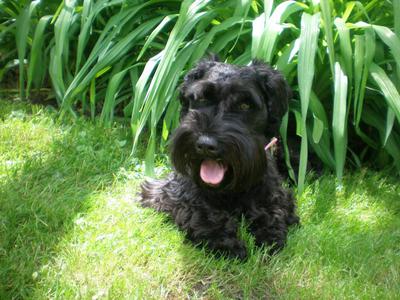 Emma in the garden
We adopted our black miniature schnauzer Emma one year ago. She was born on July 4th 2012 (Independence Day). She has been a wonderful addition to our family. Emma is intelligent, very social, very vocal as in she will talk to you. She just loves every human and every dog.

Emma volunteers at the local nursing home once a week. The residents are so excited when she visits. She puts a smile on their faces and it fills my heart with joy. She is so kind, and gentle with them and knows she is not to jump on anyone. Emma loves to play, and she enjoys going for rides in the car.

Emma loves to have her dog friends over and she enjoys to be groomed. Emma especially loves the blow dryer. She loves to go out in the garden and sit while I garden. Actually some of the pictures are in the garden. Emma was just sitting there in the sun on the grass and I thought it was the perfect picture. I told her don't move, retrieved my camera and took the pictures. Emma also dances and walks on her hind legs for treats. She is quite a character.
Return to 2013 Schnauzer Photo Contest.