Meet Bella Boo, our talking Schnauzer
by Kim H.
(Scottsdale, Arizona)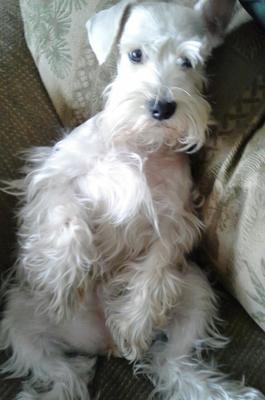 Bella Bear
Bella came into our lives 5 years ago on Christmas and she is a joy to our entire family.

Bella was a gift for my husband and a companion for our other Schnauzer Dobby. In the beginning I don't believe Dobby appreciated her much, but now that they are older they are great companions.

We weren't sure how things were going to go with the two dogs as once Bella became familiar with the house, Dobby, and us she became the leader of the pack. Her personality is one that I do not believe could ever be replaced. While Dobby is quiet and likes to be our "watch dog" Bella wants to be around family all of the time. Bella likes to tell us how her day has been when we get home and she brings a smile to our faces every time we walk through the door. They are both such a huge part of our family and we cannot imagine life without them. If Bella wins the contest I'm sure she would tell you thank you in her own language.