Get to know my Greta
by CJ Fryer
(Plymouth, MI, USA)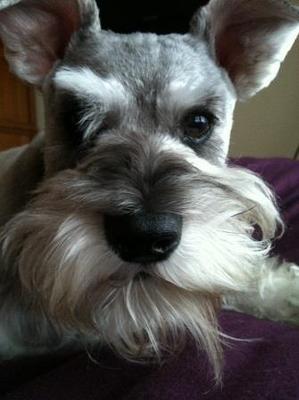 I wub you, Momma
This is my Greta, a 4 year old, salt and pepper Miniature Schnauzer.

Greta came into our lives at a time when we really needed a pet and she's so much more than just a pet.

This girl is SMART. Greta knows the names of each of her many toys (see picture) and will dive to the bottom of her toy box to get the requested buddy. Greta can tell time especially when it comes time for Grandma to dole out the Yogurt treats - when Wheel of Fortune comes on - or when Momma should be pulling into the driveway.

She LOVES. I get "ambushed", what this means is she'll bound up on me while I'm on the sofa - and not paying attention to her - and nibble my nose and bombard me with kisses. When she's being punished with a withholding of affection, she'll do everything to make me cuddle her to say she's sorry.

On Duty. From fur-buddies and their owners to trades people in the complex there is a different bark and/or body language - and I'm now an expert on reading most of these attitudes. Evening potty breaks she'll dash out the door, stop and bark and wait for any response from surrounding canine friends.

She follows my lead. Sitting and enjoying the day in the garden or an impromptu walk to a neighbor's without a leash, she sticks to my side.

Love me/Love my dog. I don't have children, but I am a parent to this little girl. That means if she's outside warning me that there is someone or something nearby and I hear "Shut Up" I get the same reaction as any parent and want to knock your lights out (I have such a neighbor).