Schatzie Bella Pooper Poo!!!
by trin and jai
(oklahoma)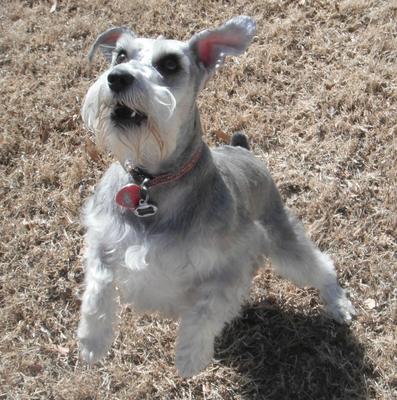 Give me that toy!!
Schatzie Bella is more than just your ordinary dog. She is a hand full but it's all worth it. She wants to be the boss of the house, but her older brother Romeo doesn't approve of that idea.

Schatzie was born in Shawnee, OK on June 26, 2011 and came to our family on September 30, 2011 for my birthday. She is currently 1 year and 8 months old.

Schatzie enjoys playing in the snow and in the leaves. Another extracurricular activity that she enjoys is chewing up rugs and shoes. Schatzie's favorite toy is her squeaky raccoon. She also likes wrestling with her older brothers Romeo and Radar.

She graduated from K9 University where she was awarded the title of "Miss Attitude." Some things that she learned at the university were to sit, stay, and lay down. She is very smart and sweet, but sometimes she likes to be the opposite. One of her un-smart moments was when she was a puppy and her brothers were being bad influences by jumping off the deck. So Schatzie being only a few months old and new to her surroundings she decided to jump off the deck and it scared the crap out of her "literally." Schatzie is a wonderful dog and that's all that matters to us.