2011 Schnauzer Photo Contest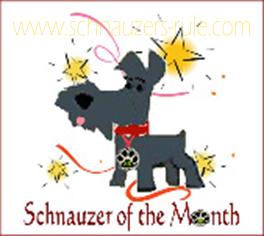 Our 2011 Miniature Schnauzer photo contest was a huge success due to all the wonderful entries we received below.
Congratulations to the 12 monthly winners who have been featured on our website and our yearly Schnauzers Rule Calendar!
If you would like to enter your Miniature Schnauzer in our dog photo contest, please visit the main contest page here: Dog Contests.
---
2011 Mini Schnauzer Photo Contest Entries

Lauren Mini 
My little dog's name is "LAUREN" and she is a female. My husband and I picked the name for our future a baby girl but my dog got the name

Klaus 
we found klaus at a puppy mill when he was 7 weeks old. he was very fluffy and adorable, and he still is to us. he is in training to be a therapy dog

Gandalf 
Gandalf joined the family three years ago. We found him in a puppy mill in central texas without air conditioning or a yard. It was about 90 out and he

Flurry 
This is our newest member who's just 8 weeks old. White Chocolate Flurry Sensation. She's a solid white chocolate beauty. She has one heck of a spunky

Diva Mia 
Mia was a rescue puppy and she has now been with me for 10 years, she is very sweet and very adorable, she is my baby.

Sabrina 
Miniature Schnauzer Sabrina, was born March 23, 2004. A female from a litter of six came from Killen, Texas rode in an 18 wheeler to Dayton, Ohio

FRITZ 
Fritz just celebrated his first birthday. He is a very happy boy that never gets too excited about anything. We could not be happier about our Fritzy Boy

RUBY 
Ruby is a 1 year old sweetheart who loves to play and be chased all around the house by us. She loves to be held like a little baby she is a ball full

Sophie Sassy Silver 
Sophie is a very sweet and sociable dog. She likes to say Hi to everyone. Once at a family gathering about 5 or six people were standing in a circle

Xander 
Xander is a 3-year old male that we adopted at 4 months old from a friend from Alabama. He has plenty of energy and loves to play.

Juhani 
Juhani loves to run and play he is a very smart and funny little boy. he comes to me and started jumping up and down when he wants to go for a walk

Wilson 
This is my Wilson. I had been looking for a miniature schnauzer for some time and finally located a breeder 5 minutes from my home! I got Wilson when he

Piper 
Piper is a lovely black and silver female Miniature Schnauzer. At six months old, she is rambunctious little thing. She loves meeting new people so that

Miya 
This is Miya we got her at 6 weeks old Miya likes to get mail and occasional toilet paper out of the can. Miya likes to take your shoe and bring it out

Tanner 
I waited 6 years to get Tanner. I had a miniature schnauzer before Tanner. My husband didn't want another dog and finally after 6 years I decided I needed

Miss Ruby May 
Ruby took over our life on 3rd October 2011 and nothing will ever be the same. Ruby is very clever and loves nothing more than to see how high she can

Sophie So Fine 
In Memory of Our little Sophie Bear....We picked the breed out of a book through deduction, to fit our lifestyle. Little did we know how hard we would

Gracie and Stormy 
We are the same size...... NO?????? :) This is Gracie and Stormy...Gracie is our Mini Schnauzer and Stormy is are Giant Schnauzer. The play like

Daisy Mae 
Daisy Mae is our 7 month old Miniature Schnauzer. She was a gift from a good friend. She is a wonderful addition to our family. She adores her 6 year

Sambo 
Sambo was offered to us in September of 2009, he was actually born in August 2009. I was just talking at work one day about my little boy wanting a dog

Milo 
This is Milo's 3rd time in this contest. He is now almost full grown and has grown into quite a spunky little personality. With every new day, Milo becomes

Madeline
Madeline is such a sweetheart. She is my first dog and is almost two years old! She loves any toys with stuffing and even enjoys them after she has taken

Wylie Jai
Well Wylie Jai came to live with me on Feb 8, 2009, He was 8 weeks old, He came from my aunt and uncle who raise miniature schnauzers. He is a black Miniature

Rosie, Sam & Strider
Swim time for this litter pack of 2 brothers and sister. Intended on bringing home a pair and now it's a trio of crazy schnauzers.

Baron Von Marshall I
This is our beautiful 10 week old male puppy. He loves chasing an empty plastic bottle, and his favorite toy is his massive fluffy soccer ball. He loves

Guess
Hi my name is Guess! "Well Guess What?" "Clever hey?" I was born July 12th 2011, and I came into my families life after they lost their dog Ask'er

Cagney and Lacey
Cageny and Lacey are 10 mo old rescued sisters who have so much love to give everyone, especially children. We feel so fortunate to have found these inseparable

Millicent Adele and Otto Von Helmut
Millie is a 5 year old female and Otto is a year old male. The two are inseparable and chase/wrestle with each other continuously. Otto is a sock thief

Howie
Howie is my best friend and singing partner. He enjoys getting his bally, giving paw, singing and jumping around. Everyone that meets him says he is the

Spanky
Hi! My name is Spanky and I am a 9 y/o male. My mommy found me at a pet store and calls me her 'little miracle' because I was very sick for the first year

Finnegan McNeil 
Finnegan McNeil is known on Facebook by his thousands of friends as "The Little Toy Schnauzer Service Dog with the Irish Accent".

Gabby 
She was born on July 12 2011. I wanted to keep a girl out my sire that had passed away and felt that her little spirit was just like her Dad's.

Sir Stewart Wertz 
My Miniature Schnauzer is Stewart, but we call him "Stewie" for short. He is 8 weeks old and full of energy. Stewie likes to run and hop in the yard, chew

Rocky Balboa 
Rocky is a fun and energetic Schnauzer with a big personality. Rocky has brought to us and his older Schnauzer brother Scooter so much love fun and companionship

Kip 
I have had dogs and cats all my life but Kip is a once in a lifetime friend. Smart! She has, no kidding, about forty toys and she knows each by name.

Mika 
Our Miniature Schnauzer came into our life in April of 2011. When I went away to a medical school in Chicago, my husband and I decided to get a puppy.

PANZER 
My name is Panzer, because my dad says I'm his little tank. I am 4 months old, and have the best home ever! I love to play with my toys, run and chase

Pepper 
Pepper is a wonderful 1 year old female schnauzer that came into my life from a local breeder. I intended on just going to the breeder to look and to also

Lexi 
Lexi will be three this month and she loves everyone!! She is so sweet, vibrant and athletic! And just the phrase "Lexi, want to go for a RIDE?" will

Africa 
My name is Africa, and I´m a 3 month old black schnauzer. Mom went to walk my dog sister to the park and there they found me. I was dirty, hungry and scared

Alegría 
Alegría (Spanish name for Happy) she is very smart, clever and cute!!! She is 3 month old

Fritz & Fred 
Fritz and Fred are 5 month old male littermates who are a joy to be around. They became part of the family about 10 weeks ago... The how is a lovable

Mini Schnauzer Milo 
Milo is a beautiful salt and pepper Miniature Schnauzer who is 4 months old. He loves to play fetch and gnaw on sticks! We love him and don't know how

Mini Schnauzer CJ 
When most people talk about miniature schnauzers they describe them as little old men. I agree with the human part but not with the old.

Milo 
Milo is a beautiful salt and pepper Miniature Schnauzer who is 4 months old. He loves to play fetch and gnaw on sticks! We love him and don't know

Alegría 
She is a little girl (3 month old), is very intelligent and make us very happy, like her name in spanish (Alegría) and loves pictures

Palmer Prince Jackson 
Our Mini, Palmer, has been bringing joy to our little family for over 2 years now. Despite my reluctance to own a dog, my husband presented me with a little

Pepper 
Pepper is a six month old Miniature Schnauzer who was the valedictorian of her puppy obedience class. She challenges us because she always wants to learn

Lady Anne (aka Annie) 
My sweet, beautiful Annie is the most loving schnauzer on the planet! (Biased, who, me? *laughs) She is most definitely a girl, and she knows she gets

Flash 
Flash joined us in 2009 as a 7 week old puppy. Sugar is our female and was 6 years old at that time. Flash is a male and quite outgoing. His main activity

Wiki Mouse 
Wiki is a Male almost 2 years old. He is like another son to my wife and me. Always loving and ready to play.

Pootie Tang 
Hi, My name is Pootie compared to other pups I'm way cuter, my mommy says she don't care because to her; I'm just her little "Pooter"!

Jessie 
This is Jessie on our first day with us. She is 8 weeks old. She didnt come in the box by the way.

Percival 
We live in a small to medium apartment and we were looking forward to getting a dog. Knowing that dog size and level of activity was going to be an issue

Duchess Amezaga 
Duchess was given to us by a family friend, who was living in a very small apartment. Duchess's owner desired to provide her with a back yard where she

Gretchen Galiana Denman aka "Puppy Girl" 
I missed out on all the love one gets from a dog until I was 61 years old and ended my career. That's when I suddenly--for the first time ever in my life

Panzer 
Panzer is 3 months old, and a very smart and good puppy. He loves to take naps, play with his toys, and eat! He has brought so much joy to my life, he

Stormy  
Stormy is a female miniature schnauzer, who is very energetic and quite snappy. She became a member of the family when she was just 3 months. We got so

Milo 
Milo is a 12 week old Miniature Schnauzer. Milo loves his "Jimmy Chew" shoe shaped chew toy and his white frisbee which is practically bigger than him

Macey 
Macey is a 5 year old mini black schnauzer. She was a rescued dog. She was in a bad situation and I drove 2 hours to go get her out of that situation. She

Sammy Schnauzer 
This is Sammy Schnauzer 2 year old salt and pepper. He was adopted on December 28, 2010 after the quick and sudden loss of our dear beloved Bogey. Sammy

Porsche 
Little Ms Porsche is a new member to the family we got her about 2 months ago and she is now 4 months old :) She is a playful little puppy!! She loves

Wicket 
Wicket is a 3 year old Mini Schnauzer & is definitely the worlds friendliest little dog. He is truly a mans best friend. He is like a real human child

Lola Madison Garrett 
As the song goes, Whatever Lola wants, she gets, and I wouldn't have it any other way. My Miniature Schnauzer, Lola, has literally saved my life, many

TILLY 
Tilly is a 12 week old female and if we say so ourselves she is an absolute "Dream". They say Schnauzers are smart we definitely got the A+ student.

Shank 
Lil' Shank is a 1 1/2 year old liver mini schnauzer that loves to run and play with anyone and everyone. He loves people, especially kids, cats, and big

Abby 
Abby is a 7 month old Schnauzer who loves being outside! She loves camping with us, bike riding on the back of our bikes and running around like crazy!

Lewis 
My miniature schnauzer's name is Lewis. He was a stray dog turned in to SPCA where I found and adopted him. He is the sweetest dog and loves his new family

DOC  
Doc was born on May 4th, 2010 and became part of our family on July 4th, 2010. Doc is an intelligent, loving, happy puppy and very adorable I might add!

Rascal and Gypsy 
Rascal is my 7 year old mini schnauzer, and Gypsy is his 3 year old daughter. Our backyard is their domain where they romp and rule. They have become

Hanz 
Hanz has the sweetest and most kindred schnauzer spirit a lucky person like myself could ever hope for. He has consoled and entertained thousands of patients

Baubles 
Baubles is a Christmas baby! He's born on 25 Dec 2007 & he came to us when he was 3 months old.
He loves his daily walks, chasing me around & playing

Prince Nico 
Prince recently became part of our family after our beloved Kane died. He's brought so much joy to our family and I've already started him with his first

June 
Junnie is the princess at home! She is 2.5 years old! This was a photo taken during my lunch break at home! I'm always her favorite big toy of choice!

Mika 
Our Miniature Schnauzer came into our life in April of 2011. When I went away to a medical school in Chicago, my husband and I decided to get a puppy

Lady Anne 
Annie is named for Lady Anne Boleyn, the ill-fated second Queen of King Henry VIII of England. She will be 6 years old on August 31 of this year(2011).

Hännäh 
Hännäh came to our family in 1999 at the age of 6 weeks. Several years later, her father needed a home and we still have them both. She sets at the front

Angel 
She was a little blessing after my two Schnauzers The Duke of Earl, & Dinky Duchess passed away. She is filling some very big paws. When we first

Harley 
Hi, my name is Harley. I think its because Mom and Dad ride motorcycles. I haven't tried that yet but I do like the car rides. I came to live with

Pootie Tang 
Pootie Tang (His Story) Pootie Tang is a 2 year old Mini Schnauzer who lives in Arizona. Howdy I'm Hannah once I worked at the A.S.P.C.A we help

Trixi 
After my beloved yorkie Jill passed at the age of 13 I was looking to heal my broken heart. After researching the breed I decided a mini schnauzer would

Skittles 
Skittles was a Christmas Schnauzer, at 5 weeks old on Christmas eve he came into our family as my own special present. since then he has become a major

Paris 
Goofy and fun! Loves photo shoots! We call her our little plus sized model!

Connor 
Connor came to me in February of this year, just 2 weeks after I lost my other beloved Mini, Dexter. I was still grieving terribly over losing Dexter

Evee 
My name is Evee. I am 6 months old in this picture. I was so excited to go outside and see snow for the first time. After all, it doesn't happen that often

Lyncoln 
Lyncoln is our Schnauzer of the hour! He is a smart pup! We got him in 2005 when we lived in San Diego, CA. Since then we have traveled around the US.

Porsche  
We Just purchased a new home and what better way to settle in then to get a puppy. We decided on a Miniature Schnauzer because they seemed like the best

Jazzmyn 
My Jazzmyn is an angel sent from heaven to me! She is the sweetest dog ever!! She was a tiny baby when I got her. She loves to play frisbee. She is a social

Tanner 
Born Feb. 27th, 2011, Tanner came from a litter in Herkimer, NY. Previously, I had a Miniature Schnauzer for 16 years and realized how devoted these little

Dudley 
Dudley was rescued from an animal welfare shelter at age 8 months. He is a lovable, playful, energetic and cuddly young man. He won 'most friendliest dog

Einzel 
Einzel is a 3 year old female, American bred, but she loves France, where she can go almost everywhere with Mom and Dad. Einzel was born to run, and here

Archie 
Archie is a male schnauzer now 5 years old. He was totally black except for one spot on his chest when he was a puppy and now he's turning silver.

Kiss 
This is our little Kiss or Kissy pants for short, lol. She trots everywhere she goes which makes her ears bounce :o). Kiss is a liver colored teacup,

Bruno 
Bruno is 7 1/2 weeks old. He is the cutest thing in this Universe and very gentle. His favorite thing is his monkey and loves to sleep too.

Winnie 
Miniature Schnauzer Winnie is a year and a half old. Winnie ABSOLUTLY LOVES tug-o-war!:-) My mom bought winnie for me when my other schnauzer died

Fritz 
Fritz is such a joy to my family, wakes us all up everyday with lots of kisses. Mainly spends his days playing with my 6 year old daughter Madison and

Bosco 
Got Bosco 6 years ago, saw him in the window of a pet store with his schnauzer hair cut and fell in love...is the sweetest dog but do have a temper, just

Lil' Shank 
I worked at a dog groomer and a girl I worked with had seven mini schnauzers and I thought they were the coolest little dogs. When I found out she was

Charlie Leo  
I got Charlie Leo for my sixteenth birthday about 2 months ago. He is a perfect fit for my family and I couldn't ask for a better dog. Charlie loves

Blairs Angel Gabriel 
Gabriel came to live with us when he was 6 months old, after my heart dog Paco died from lymphoma. Gabriel is a black and silver parti and is now almost

Rocky Balboa 
Hi Rocky Balboa at the age of 6 months came to us after looking for a pup to be my 2yr old Schnauzer pup Scooters friend and companion, I was let down

Chunk aka The Hunk of Chunk Of Burning Love 
With an upcoming 10th birthday, and the tragic loss of the 9yo BD present-(Sunshine, an adorable White Mini passed of Liver failure at 13 months), we were

Sadie and Sophie 
Sadie is the beautiful black and silver, 2 year old mini with a protective, playful, and loving personality. She was the first schnauzer to bless our

Miniature Schnauzer Annabelle 
Our schnauzer was first given to my fiance jay from his neighbor, he moved to Wisconsin to live with me, and belle came along when she was about 3 months

Winston 
Winston is a rescue - his previous owners dumped him at the pound when they learned they could not show him because he is white - he has been my buddy

King Leonidas III 
Leonidas was a great dog. I'm sad to say that he recently passed away on May 2nd, 2011 but his legacy will always live on. >I got Leonidas at a pet store

Lulu
Lu Lu is a smart little puppy, only 4 months old. playful and enjoys Mozart's piano sonatas

Penny Elliot 
I lost my husband almost 4 years ago and shortly after his loss, our oldest miniature schnauzer, Gus at the age of 7, was diagnosed with lymphoma cancer

Louie 
Louie is a rescue from a local animal shelter, he had my heart when I first laid eyes on him. He buried himself into my heart and is everything I wished

Rocky and Cosmo
Meet Rocky (solid black) and Cosmo (black w/silver). Both are four years old and Rocky is a month older. They both love to spend time in the yard.

Cosmo
This is Cosmo and he was adopted as a puppy in 2007 through the Pontchartrain Humane Society. He will be four years old this month.

Miniature Schnauzer Rocky 
I'd like to introduce you to Rocky he is the lil' old man of our family, 6 years old and the life saver to many in our little group. In times of trouble

Miniature Schnauzer Neeka 
Neeka is almost one. She loves to look out the window and watch the deer.

Miniature Schnauzer Sam 
I found our Sam tied to a porch. I offered the owner of the house the money in my pocket to take him home. After a good scrub down and a hair cut I realized

Willy Jack
My name is Willy Jack but everyone calls me WILLY.
I am a very good boy and have brought so much joy to my Mom & Dad. I love to play with my toys and

Bella
Bella is simply the joy in our house. Not a day passes by that she doesn't play, explore, and cuddle up to you. At just 4 months old, she has brought our

Christmas And The Girls
Christmas (second from left) is our adopted girl. We bred her with another white miniature schnauzer and the other three are her 11 months old girls. Christmas

Miniature Schnauzer Sadie Mae 
Sadie Mae is a 3 year old white schazzer who was rescued when she was one years old. She loves attention and is very protective of her home and family

Penny Elliot 
Penny came to us 2 months ago in February 2011 from an elderly couple that couldn't handle her high energy. She joined Max, my 4 year old male black and

Mini Schnauzer Mona Lisa 
We rescued Mona when she was just 7 months old and now, a year later she is the Queen of our home and our hearts. I just can't imagine what we would do

Cubby Bear Michaelsen
It was a cold January evening in Chicago when Kim & Eric Michaelsen took their three daughters out for their youngest daughters 13th birthday. We girls

Miniature Schnauzer Trudi 
Trudi is a black and silver mini schnauzer and is 9 weeks old. Trudi became a member of our family one week ago now and she has adjusted and settled

Miniature Schnauzer Schnapps 
Schnapps was born on the 2 December 2010. She is a female and we got her because we really wanted a playful puppy for the family and we knew a Schnauzer

Miniature Schnauzer Lady Anne
Annie will be 6 years old on August 31, 2011, and she is absolutely the sweetest schnauzer in the world! My Dad and I got up early one Saturday morning

Mini Schanuzer Flossy Fay 
Flossy is a 6 month old Beauty Queen for we didn't name her Flossy for no reason. The meaning of Flossy in the dictionary is "downy; light; fluffy, stylish

Miniature Schnauzer Taz Schmitzer 
Taz has become the light of our life and the cause of much laughter. He is a character like no other. This picture is his first snow.

Riley and Jeht 
We got Riley, our younger dog to be a companion for Jeht, our older dog. We had recently lost his long-time friend, Mindy, and he missed having a furry

Annabelle 
Annie originated from Texas with daddy but then daddy found mommy in Wisconsin and that's when we fell in love i love to play in the snow in the winter

Bailey 
Bailey came into our lives just four months ago after us losing our beloved cat after owning him for 20 years. We thought we would like to have another

Dolly and Annie 
Miniature Schnauzers Dolly and Annie are sisters. They love to play and sleep! ZzzZzzZzz!

Maximus and Kaira 
Maximus (black) and Kaira (salt and pepper) We waited 2 years to find Max (born April 2011); he is so easy going and fun to chase around. We got Kaira

Rudy 
Rudy is a 3 month old Mini Schnauzer. His favorite activities are swimming on the bed (No water necessary!! ;))He loves to chase squirrels, sleep

Bobbi 
We adopted Bobbi on February 2011, she was about 1 year old at that time. She was born without a tail - well her tail looks like it's been docked

Pootie Tang 
Pootie Tang a 3 year old Mini-Schnauzer from Yuma AZ wishes you and your Family a very Happy Holiday Season. He'll be opening his presents as usual under

Sadie 
Sadie is 5 months old and the sweetest little schnauzer. Sadie loves playing. Her favorite toy is a stuffed monkey that is as big as she is. She drags

Ammo 
Ammo is our first Mini Schnauzer. We have always had big dogs and multiple dogs at one time. We were left with one recently due to old age and wanted

Lunna 
LUNNA BECAME PART OF OUR FAMILY DECEMBER 1, 2010, SHE CAME FROM ENSENADA,MEXICO WHEN SHE WAS ONLY 2 MONTHS OLD! A FAMILY FRIEND GAVE HER TO US AS AN EARLY

Zoe 
Zoe is a year and a half old. She has so much personality. We also have a black Giant Schnauzer, Zeus, who is three. Zoe and Zeus are inseparable but

Bentley 
My dad and I were looking for a small breed dog and when my dad and I saw this little dude with a beard, we fell in love with him! He's now a year and

Princess 
This little came to me as a surprize but became my little princess witch

Lucy-Belle 
Lucy just celebrated her 3rd birthday. She's a salt & pepper mini. She's the only girl in our family and has three human brothers who adore her.

Lucky 
Lucky was a gift from a friend. He's 4 years old. He's a Male. He likes to play all kind of soft toys. He likes to see pretty girls (human or dogs)

Molly 
Molly is a very energetic dog. Every morning at 6 o clock I wake up to the biting and licking of Molly. She runs up and down up and down the stairs all

Oliver 
Oliver is a three year old black & white parti schnauzer. He was a birthday gift to me from my fiancee. Best gift ever!! Oliver is the sweetest little

Fred 
Fred will be 6 months old on 10/11. He is half of a dynamic duo ... He and his brother, Fritz have wormed there way into our lives and give nothing but

Portia 
Portia is a fun loving 7 month old Mini Schnauzer. She is so smart and hasn't met a human she hasn't loved! We love having her a part of our family!

Emmie 
Emmie is my active mini schnauzer of 10 years that has been with me since she was 6wks old. She enjoys playing with her toy monkey and enjoys going on

McKinley 
We live in Minnesota and found out quickly Mac loves the snow. Good thing, considering we had a record snow fall last winter. He just dove right in

Chevy 
We have rec. our Chevy (Male) almost six years ago. He has been a blessing. My boyfriend bought him for me. We are big chevrolet people so that is how

Pepper  
A Big Dog packed into one small Schnauzie :] , This dog was packed with a punch, He stand's 13 1/12 and has the face that could kill. Pepper is a genuine

Pepper  
A.k.a pepper-Oni ,Pepper-wepper, peppy, the list goes on!, Pepper-oni was given to me By A friend After Buying him I was told he was a returned puppy

Mini Schnauzer Rooney 
Rooney has just recently turned 6 on july 7th of this year. even though he is getting older he still acts like he did when we first got him.

Lulu 
I bought Lulu at a puppy store two days after my bichon passed away. She was the only girl and the smallest in her litter. She is now full grown and only

Rooney 
Rooney is a fun loving Miniature Schnauzer! His favourite thing in the world is cuddling with you and playing tug of war. He has soft pepper fur

Cj 
Cj is a Special Miniature Schnauzer from the strange way he sits to his personality! His a funky, Fresh, Fun loving Schnauzer who just turned 6!
---

Go from Dog Photo Contest 2011 to About the Miniature Schnauzer on Schnauzers Rule
Go from Dog Photo Contest 2011 to Miniature Schnauzer Contests