Sambo
by Christi Raby
(New Tazewell, TN USA)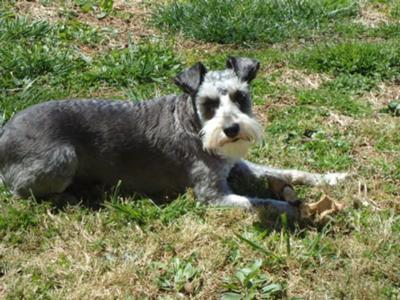 Basking In the Sun
Sambo was offered to us in September of 2009, he was actually born in August 2009. I was just talking at work one day about my little boy wanting a dog and someone spoke up and said I have 2 left, as soon as they are ready, and if you would like I will cut you a really good deal for one.

Oh my goodness did my life and my family's life every change in such a good way. Sambo has been one of the best blessings in our life. He is the smartest, cutest, loving dog I have ever owned. I recommend schnauzer's (be in min, giant, or just regular to anyone out there.) Sambo is a minature schnauzer and I would recommend again that everyone in the entire world experience life with one at some point or another.

We take him for a walk every single day and he get's so excited when we start putting our shoes on. He is a full inside dog and you sure know it when it's cold because he loves to snuggle right up next to you. He sleeps with my 8 year old but prefers to lay around the house with my husband or myself. He loves treats and will do tricks for them (without any special training). We trained him at home all on our own and boy does he respect us. I cannot say enough good things about Sambo he has truly been a great addition to our family. And if for some reason something did happen to Mr. Sambo the only other animal I will ever own again is a minature schnauzer. They are the best pets in the entire world.