Tanner
by Tammy Altilio
(Horseheads, NY USA)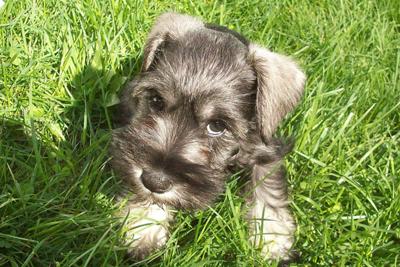 Mini Schnauzer Tanner 8 weeks old , his 1st time in grass
Born Feb. 27th, 2011, Tanner came from a litter in Herkimer, NY. Previously, I had a Miniature Schnauzer for 16 years and realized how devoted these little dogs are.

He is a salt-n-pepper miniature, a small guy, innocent looking, but full of puppy energy to say the least.

My husband & I adopted him May 1st and have been busy ever since. Tanner has his own bed in his bedroom with his mommy and daddy and sleeps all night long!

He is in his 3rd week of puppy training and doing very well, learning how to sit & loose leash walk, treats are always encouraging. He really likes his trainer "Ian" who calls him his "little cowboy".

Tanner had a puppy shower May 15h with his new "Aunties" and received lots of toys, all are favorites!

He's anxiously waiting for his next party!