Sabrina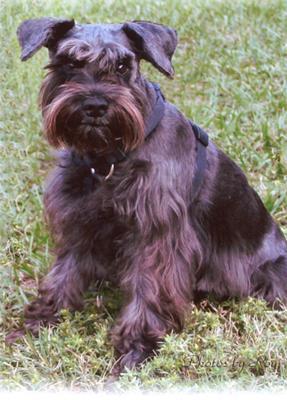 Sitting Pretty and Proud
Miniature Schnauzer Sabrina, was born March 23, 2004. A female from a litter of six came from Killen, Texas rode in an 18 wheeler to Dayton, Ohio via Dayton, Ohio and finally to Ocala, Florida. We drove from Dayton, Ohio in May 2004 to pick her up when visiting my first born granddaughter in Kentucky.

She does not play with toys but loves to be cuddle. She was housebroken from the day we brought her into our home. She is a barker who does not like to go for walks just is satisfied barking at our neighbors dog. Loves to be cuddled.

She has a bad habit of swallowing acorns which was mighty expensive in 2006 when she had to have surgery to remove it from her lower intestine. Her dad put the acorn in a container after he painted it gold. Wrote on the container Sabrina's Golden Acorn. She still swallows them so whenever acorns are in season so she has to go outside with a muzzle on.