Lauren Mini
by HYEJIN, LIPE
(EL PASO,TX,USA)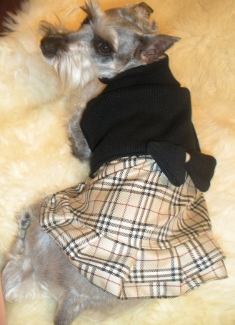 Miniature Schnauzer Lauren
My little dog's name is "LAUREN" and she is a female. My husband and I picked the name for our future a baby girl but my dog got the name and became our first place kid. She is our perfect baby so far! She came to our life when she was 8 weeks old. Ever since the first day we saw her we have loved her so much. We spend so much energy on her and we would do anything for her.

She is 3yrs old, very elegant, smart, and understands Korean and English. She is very gentle around people and gets lots of attention everywhere she goes. She's been to Korea once a year and visited our family. She goes everywhere we go, either in the air or on water. When we eat she always sits in her "Lauren" chair at the dinner table. When we sleep at night she always sleeps next to my husband. When my husband was deployed to the war, she kept me company the entire time. She is a big part of our family.

She is lovely and gentle and there's not a bad bone in her body. She makes us happy, makes us laugh and fills our family with love. She is the smartest dog we have ever known and think she is a human. There is truly no dog like her in the world. She is our little mini Schnauzer. I'm so proud of her and I want everyone to know.