Spanky
by Maria
(East Meadow, NY, 11554)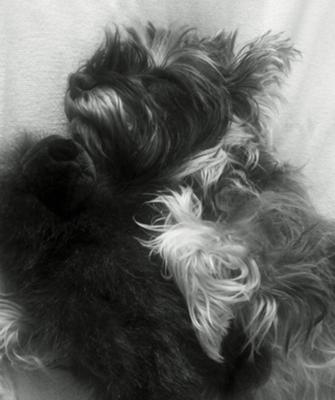 Spanky snuggling Little Bear
Hi! My name is Spanky and I am a 9 y/o male. My mommy found me at a pet store and calls me her 'little miracle' because I was very sick for the first year of my life.

I live with two other schnauzers but mommy says I'm the smartest and most handsome of all. I think it's funny when I'm tearing open a toy, pulling out all the stuffing and leaving it strewn about the house.

Every morning I go for a ride in the car to Dairy Barn, where the man gives me a cookie through the window....I sure love cookies! I hate thunderstorms, fireworks, baths and the doctor, but I love going for walks and sleeping with my favorite toy, 'Little Bear'. I also know my left paw from my right paw, and will give you the paw of your choosing if you give me a treat.

Basically, I'm a good boy with a bit of a wild side who is spoiled rotten and super cute!