Wylie Jai
by Katie
(Hills, Minnesota, United Sates)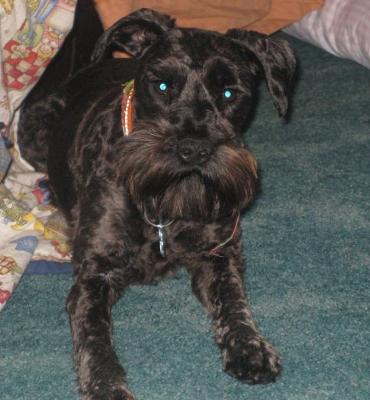 Wylie Jai VonKlink
Well Wylie Jai came to live with me on Feb 8, 2009, He was 8 weeks old, He came from my aunt and uncle who raise miniature schnauzers. He is a black Miniature Schnauzer. He is such a lovable and happy boy, he loves to be outside and he loves to play with his Best Friend Buddy a Golden Retriever. He also loves to go out to my aunt and uncles house and play with his mom and the other dogs.

He sleeps right by me at night and he has his own blanket, His favorite toy is a stuff Tigger. He goes every where with me. He is the best thing that has come into my life. I love him so much. He also has an attitude like a kid, if he does not want to do it he wont. He loves little kids he plays with them and they just love him to death my 2 year old is his best human little friend. Eli walks with Wylie all over the place.. It is very cute.

All in all he is a mammas boy, if im around he will not go by anyone but me. He is a lover!!!!