Fritz & Fred
by Tom Reardon
(Shoreham, N.Y. USA)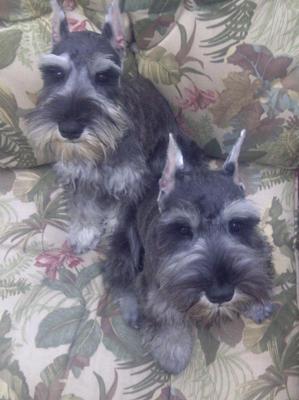 Miniature Schnauzers Fritz & Fred
Fritz and Fred are 5 month old male littermates who are a joy to be around. They became part of the family about 10 weeks ago... The how is a lovable story in itself.

My best buddy, Ed had Miniature Schnauzers growing up and then later in life he purchased one for his Mom as a Christmas gift... 16 years later, after we all fell in love with a lovable Fritzy he finally had to be put to sleep... We all were devastated...

Fast forward 6 years... my buddy retired from corporate life and at Christmas last year, his Mom gave him a small package containing Fritzy' leash and a note saying that her gift to him that year was another 'Fritzy' since he now had the time to devote to another Mini Schnauzer.

Well to make a long story short... My buddy contacted the breeder where he purchased Fritzy for his Mom years ago and as luck would have it a puppy was not available after months of trying to pin the breeder down for a sense of availability.. Not a pleasant experience.. Anyway... After some research we found a reputable breeder in upstate Rochester, NY - Bella Miniature Schnauzers and the experience was nothing but incredible... As it turned out, puppies were available, there were pictures and choices with updates.

My buddy arranged to go up to Rochester from eastern LI and asked me if I'd like to take a ride up with him... The rest is history... We went up, met a couple of fantastic breeders and they introduced us to the puppies... My buddy made his choice and then the breeder 'innocently' says to me... "Tom... Why don't you hold 'Red' (puppies were designated by collar color)... So I did... and it was all over.. I was in LOVE!

Since I have another year before I can retire I made the tough decision not to take him... but as I was driving home I couldn't shake the feeling of loss.. So a few days after I returned home, I posed the question to my buddy, Ed. Would he agree to take Red (Now known as Fred) for me during the week for 3 days and I would take on the rest of the week... ? He agreed so now we have Fritz and Fred who are the most lovable and fun members of the family. I've read horror stories about bringing up and training littermates and have to say that it's BUNK! From our perspective, we have not had issues in competing for Alpha role.. Both Fritz and Fred, while they are incredibly devoted to one another, they know who is Alpha and have bonded with both Ed and myself.

We love Fritz and Fred and they give nothing but Love back !