Lulu
by Danielle Barbato
(Saint James, New York, US)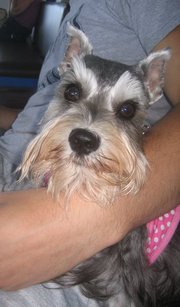 Miniature Schnauzer LuLu
I bought Lulu at a puppy store two days after my bichon passed away. She was the only girl and the smallest in her litter. She is now full grown and only 12 pounds.

She is now 18 months and to this day she sleeps on my pillow all night. Sometimes her incessant snoring wakes me up but I dont mind.

She loves chasing the animals in our backyard, especially the baby deer in the spring. She howls every time she hears a firetruck. She's a very good little traveler, especially on long car trips or ferry rides. She could be bouncing off the walls (as most schnauzers usually are) but the second she gets in the car her body goes limp and she is OUT COLD (you can also tell by her snoring). I would love another dog as much as I had loved Sophie. However, Lulu has become my other half and more. She has become my best friend.
Return to 2011 Schnauzer Dog Contest .