Kip
by Melissa POwer
(Ridgefield, CT USA)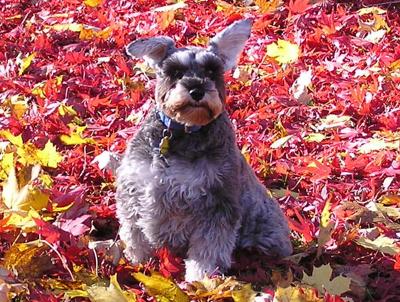 Kip enjoying a New England Fall
I have had dogs and cats all my life but Kip is a once in a lifetime friend. Smart! She has, no kidding, about forty toys and she knows each by name. She has a toy box and we can tell her to get "Albert, or Earl or Pony, or whom ever," and she will dig around in her box until she finds THAT toy! Our friends are in awe! She has a huge vocabulary, my husband and I have to spell words sometimes to keep her from knowing what we are talking about.

We can be gone for hours or to the mail box and on entering the house we are always greeted with a yelp of joy and smiles and kisses! Her face is the first I see each morning as she wiggles up next to me and when I open my eyes and I get a kiss first thing. It makes my day, and I always start my day with a smile! I have never had a Schnauzer before...not sure if it's the breed or we just got very lucky! She is the best!!!

I know this may sound terrible but we used to travel a lot to Europe. But no more, if she cannot go, we do not go. I will not leave her. She IS my best friend and I love her beyond words. I truly consider her a gift from above!