Mini Schnauzer Photo Contest 2014

Our 2014 Mini Schnauzer Photo Contest has come to an end. We appreciate all of you who shared your dog's pictures and stories with us. Our 2015 Schnauzer Calendar turned out beautifully.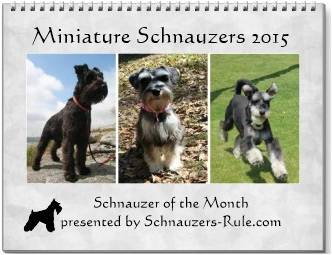 2015 Schnauzer Calendar
---
Depending on the quality of pictures we receive, we try to include as many photos in the yearly calendar as we can (besides the 12 winners). So when you think you've captured a winning picture of your Mini Schnauzer, be sure to enter it in our photo contest.
In the meantime, why not browse through some of the wonderful entries we received last year.
2014 Schnauzer Photo Contest Entries

Meet Cassie, my flower girl 
Cassie is a 7 1/2-year-old silver and black miniature schnauzer. She is a rescue dog from a puppy mill. She was 1 1/2 years old when she came to us. We …
MEET LOLA - JUST TOO CUTE  
MEET LOLA: "JUST TOO CUTE" THESE ARE THE WORDS THAT I UTTER ON A DAILY BASIS! "LOLA" WAS NAMED AFTER THE SONG "WHAT EVER LOLA WANTS,LOLA GETS." THIS LITTLE …
Meet Henry…Mr. Personality 
Hi, I'm Henry! My mommy and daddy bought me out of the back of car in Andrews, TX, and we've been a happy family since! I'm 7 months old, and by my name …
I Bark, You Bark, We all Bark for Ice Cream!! 
Greetings!!! My name is Pepper and I live in Minnesota with my human family. I came to Minnesota from the Mason City, Iowa Animal Shelter. My owner has …
CoCo-licious 
Hi, my name is Coco and I am 2 1/2 years old. I was adopted when I was 9 weeks old and have been in my forever home ever since. My mom calls me Coco-licious …
The rescued model!  
Woof woof = Hey everyone! My name is Cali and I'm 1 yr old. I was originally adopted about 6 months ago and I ought to say, I love my family a …
Mini Schnauzer Radar 
Radar came to us in November 2013, at age 4 months. We adopted him from a Recycled Pets, a rescue group in Rock Hill, SC. He had been surrendered there …
Lady Lily  
This is our six month old mini schnauzer named Lily. She is very intelligent and stubborn at the same time. From the day we got her at 8 weeks old, she …
Meet Mr. Benji 
Hi there, I'm now two years old and called Benji. I love my Mummy and my two pals, Rambo, who is and Australian Silky, and Rebel, who is my best pal he's …
New Arrival, Ralph 
12 week old Ralph, our very first Miniature Schnauzer, has been in the family for just 1 week now and already he is at the heart of everything going on. …
Hi, I'm a star. My name is Twinkles. 
Miss Twinkles is the smallest of our two schnauzers but has the biggest personality. Her favorite toy is a stuffed cow that is about her size and is colored …
Meet Snicklefritz 
Hi, My name is Fritz that is short for Snicklefritz. I'm 9 weeks old and a Parti Boy Schnauzer. My birth mom had 4 pups in the litter. A liver, straight …
The Judge 
We adopted The Judge in January. DNA testing concluded he was a black miniature Schnauzer. When we first saw him, Judge had flea bite infections. He was …
Meet: Ashlee May 
Ashlee was my first schnauzer. I have three now. I love them. Ashlee is ten years old. She acts like a mother to the two other male schnauzers and …
Jax - The light of my life 
My little bundle of joy's name is Jax. He is my first miniature schnauzer. I have always owned German Shepherds and large breed dogs. For the last …
I'm Bazil Brush so people call me 
Bazil was given to me as a 60th birthday present from my daughter in February 2013, he has been the light of my life as I had not long before that lost …
It's Suri Rule 
Hi, I'm Suri. My Mom always tells me that my full name on paper is Lady Suri but what's so important about that. Never before have people called me "Lady", …
LEXIE 
This is Lexie, the little pup that saved my heart. It is fate I tell you. I lost my 10 year old Mini "Parker" in August 2013 and my heart was completely …
My sweet little angel ... Mia 
My sweet little Mia has been with me for 7.5 years. She is a cute little female Salt & Pepper Mini Schnauzer, and she has the most beautiful eyes in the …
It's gonna pop!! 
Hi, I'm Reggie and this is Edie, as in Edith. She is 6 months old and I am one year. Although she is bigger than me I can still out-agility her and definitely …
Gracie Lu...Freebush--Ms. Congeniality! 
Little Gracie is just a pup--14 weeks on 3/16. She is a marvel. Recently took her to work with me and a co-worker had some broiled chicken so she …
All Dressed Up 
Pepper is a recuse Mini Schnauzer from Mason City, Iowa. His owner had small grandchildren that did not blend well with Pepper and the Humane Society …
Gardening with Lola 
I saw my little girl Lola, being born. She was breeched. I was lucky she survived because she is the reason for a smile on my face day after day. Her …
Funny Kandi Mae 
Kandi is a typical schnauzer. She is very special as she is small and has such a funny way in humor. She is four years old, 7lbs and her big brother Lil'Sun …
If you like chocolate,you will love me-Bougie 
If you like chocolate You will love me I was born in Oklahoma And found on-line, you see. I traveled to Illinois Where my new family lives I'm …
Meet Dobby  
This is our sweet boy Dobby. Dobby came into our lives 11 years ago. When we went to see him, he was the last of the litter of show dogs. They were selling …
Miss Ava Ray 
Meet my mini schnauzer, Ava Ray. She's 3 months old and loves to shower people she meets with kisses. She also loves all her ducky toys. Ava is a super …
Dear Santa Paws 
Dear Santa, This has been a hard year to behave. I am 2 years old now and have tried to be nice most of the time and naughty only a few times. I am …
Izzy  
My Mrs. saw this on the computer and said that I should enter. You see, I am the most specially, special Schnauzer ever, or any dog for that matter. My …
Fabulous Fizzie - music critic 
Fizzie, a cute black Mini Schnauzer, was born 11-12-13, so she has the right to be very opinionated! She likes classical, and some contemporary music, …
Meet Brody Boy!  
Fell in love with Brody our white Schnauzer when our 3 year old toy schnauzer passed away unexpectedly due to Pyometra. Our three children's hearts were …
Bear Aka.. Mr Fredericks  
My Freddie Bear Is my world! This is no ordinary sob story! Mr Fredericks (formal name) Had a very narrow escape with Schnauzer Heaven.. On a serious …
Meet Goodies Tuxedo Happy 
Meet Goodies Tuxedo Happy, a Suited Dog Hi, I'm Goodies, a little furry man with an attitude! You may call me Tuxedo, Goodies, or Happy, but I would …
Nico and Emilio 
Nico and Emilio are brothers, they are 18 weeks old and they are amazing puppies. Although they are brothers from the same litter, they are so different. …
Meet Wylie! 
Wylie is a one year old rescue schnauzer and the best puppy dog in the whole world! He was rescued from a landfill (with that face – can you imagine!) …
Parker Posey Nosey Parker - AKA Parker 
Our little precious boy Parker came into our life and bonded us as a family. My husband and I were just moving in together and we both had a son each from …
Meet Reginold Herbert 
After thinking long and hard for over a year about having a puppy, we decided it was the right time and went on the search for a breeder. When his little …
Rocky Roo 
Rocky is the love of my life! While he may look like a dog, he is actually just a really hairy person. He loves to be held, likes sparkly necklaces (collars …
Meet: Lucas P.V. 
While on vacation in Puerto Vallarta this year, and walking up the beech, we came upon a dog owner who had a litter of 10 week old Mini Schnauzer puppies... …
Remington AKA "Remi"  
Remington Smalls came to us by a breeder in Oklahoma. She was eight weeks when we picked her up from the airport and now is a beautiful black and silver …
Neno Black- Wise Beyond My Years 
Gluten Tag. My name is Neno Black. I'm almost 11 years old and let me tell you, just because my cataracts are forming doesn't mean I can't run and …
Little Miss Love to eat :) 
Hello everyone. I am small miniature black schnauzer Tea-a little girl. I'm from Belgrade , Serbia. I'm almost three years old and I'm very happy dog. …
---
Go from Schnauzer Photo Contest 2014 to About the Miniature Schnauzer on Schnauzers Rule

Go from Schnauzer of the Month to Miniature Schnauzer Fun