Remington AKA "Remi"
by Cassidy Kramer
(Alaska)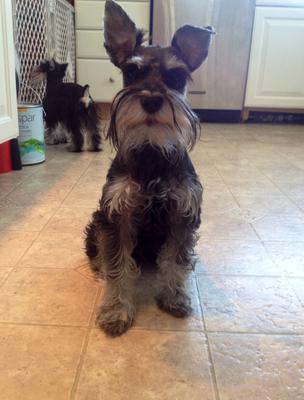 Remington Smalls came to us by a breeder in Oklahoma. She was eight weeks when we picked her up from the airport and now is a beautiful black and silver female. She is two years old and loves to run around and discover new things. She loves playing games, her favorite game of all time is fetch.

She also likes playing hide-and-seek. This is how we play, I throw one of her toys and she goes to fetch it, as she fetches it I go and hide somewhere in the house. She doesn't rest until she finds me, but it doesn't take her long because she is very intelligent. Her favorite toy is a purple spotted duck that squeaks. When we first got it for her, she was scared of it because it squeaked so loud, but she obviously got used to it and now it is the first toy she chooses when she wants to play fetch.

Remi is actually pregnant right now and will deliver in two or more days! We are so thrilled and can't wait to meet the cute tiny schnauzer puppies. One time, we were laying down watching tv and she farted! It got so bad we had to open the windows and air out the room! She is my baby and I'm hoping to have a long healthy life with her.
Return to 2014 Schnauzer Photo Contest.