Lady Lily
by Maggie Chiles
(Clermont, Fl)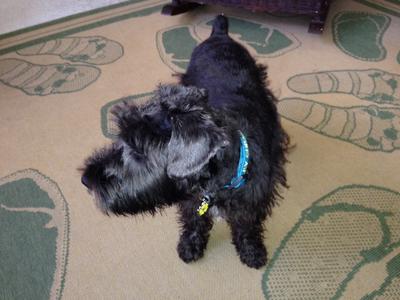 Lily looking for trouble.
This is our six month old mini schnauzer named Lily. She is very intelligent and stubborn at the same time. From the day we got her at 8 weeks old, she has slept through the night in her pink crate and she pretty much trained herself.

This is my first dog ever and I love her to death. She makes us laugh every day. She loves long walks around our community - most of the time it is two miles long. We took her to the beach for her first introduction to the ocean and she was not overly fond of it..... we will try again another time. She met a dog at the beach and they played together - much more fun then water.