I Bark, You Bark, We all Bark for Ice Cream!!
by Rachel Bauer
(Faribault, Minnesota 55021)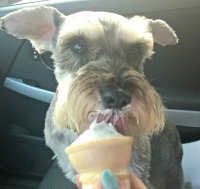 Good to the Last Lick
Greetings!!! My name is Pepper and I live in Minnesota with my human family. I came to Minnesota from the Mason City, Iowa Animal Shelter. My owner has not able to care for me any longer so he enlisted the people at the shelter to find me a home. My picture was taken and I was put out on something called the "Internet". Don't really know what that is, and it doesn't matter because it worked.

I was seen by a woman named Rachel. Rachel had a sister, Beverly, that had just lost her little grey Schnauzer from an illness and Bev was very unhappy and missed her little companion. Rachel told Bev to go on line and look at the cute little boy in Mason City. She did and the next thing I knew, there she was to meet me. I was so happy and it was love at first sight. So, Northward we went. I lived happily for a long time in my new family, then one day Bev had an accident and was taken to the hospital. I was taken to a neighbor lady until Rachel and her other sister, Delcie came to get me. I learned then that Bev had not recovered from the accident.

We went to Rachel's house, which is called a duplex. Delcie lives upstairs and Rachel lives downstairs and I go where ever I want. Everyone was sad for a while, but things got better after time. I now live in a big house with a big backyard. Oh, did I mention that I live with a rabbit, yes a rabbit. Mr. Bunny, lives in a house inside Rachel's house and let me tell you, it was something to get use to. A sheet was placed over his house until we were okay with each other, now I don't bother him and he doesn't bother me, all is good.

I love ice cream, car rides, my backyard and most of all Delcie. Sometimes the car will take us to the Dairy Queen and I get an ice cream cone. This year for my birthday, I had a large cone and I enjoyed every lick. Life is good!!!!!