Funny Kandi Mae
by Diane
(Middleburg, Fl)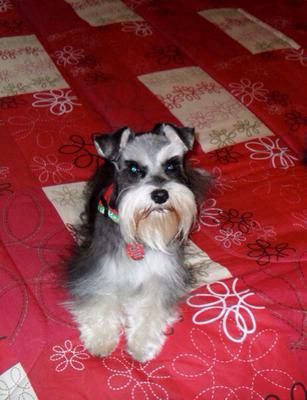 Pretty Kandi Mae
Kandi is a typical schnauzer. She is very special as she is small and has such a funny way in humor. She is four years old, 7lbs and her big brother Lil'Sun is eight and 9lbs.

Kandi's way to have fun is getting into the Kleenex boxes if you make mistake of leaving one out top of box. Her other favor thing is stealing socks and hope I will try to catch her. In fact any thing she can find on tables or sofa she hides under cushions. She is a mountain goat walks on top anything she can jump up on. She is very independent and does what you tell her not to do and does what she wants and gets away with it. Good thing my Giant wasn't like her!

She loves her toys and her favorite is her stringy bone loves to have thrown and hide so she has to find. She has lots of toys left from my Giant that loved and took care of his toys.
She has a new attraction my daughter moved in with her mini schnauzer and her cat. Kandi don't like other dogs or cats, but now she has a new toy the Cat! She is infatuated with the cat.

Instead of sleeping with Lil'Sun and Mom & Dad she sleeps with my daughter and her mini so she can watch the cat all night. Kandi is one of a kind. She has personality, funny, loveable, her Dad's left leg warmer (Lil'Sun is right leg warmer) and sneaky.

She loves to go camping, but not to get groomed. She will stay mad at us for a day or two after haircut day. We have had lots of schnauzers and each and everyone we loved and all had their own personality. Kandi Mae is one of a kind...