Meet Cassie, my flower girl
by Anne Wright
(Winnipeg, Manitoba, Canada)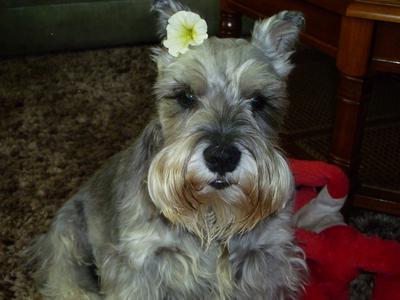 Cassie with Petunia
Cassie is a 7 1/2-year-old silver and black miniature schnauzer. She is a rescue dog from a puppy mill. She was 1 1/2 years old when she came to us. We fell in love with her at first glance.

Cassie was very timid, afraid of everything and everyone. When she was with us three months, I decided to buy another mini schnauzer to keep her company and help her out of her shell. Being with Riley really helped her. Now they are best friends and look after each other.

She loves to watch animals on TV and bark at them. Her favourite toys are stuffed animals. She shakes them like crazy. She loves to eat, anything and everything. Her favourite evening snack is half a rice cake.

She is a very easy going little girl, who gets along with everybody. Here, Cassie is posing with a petunia from our garden.