LEXIE
by Kimberly Promane
(Toronto, ON Canada)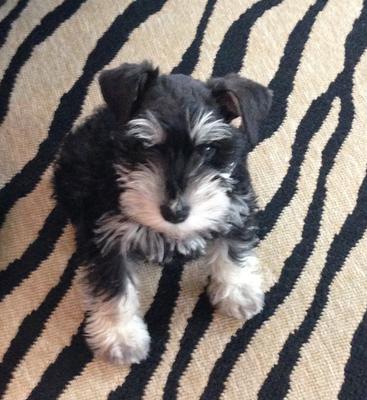 This is Lexie, the little pup that saved my heart.

It is fate I tell you. I lost my 10 year old Mini "Parker" in August 2013 and my heart was completely shattered. I swore I would wait at least a year before considering another pup. That certainly didn't last long...

I was at a fundraiser dinner for a children's hospital and I was sitting beside a couple and we were chatting about our families and such. The women asked me if I had a dog and I started to cry. I explained that my pup had recently passed and that I was heartbroken and missed him so much. "What a coincidence" she said... My son's friend's mother breeds Mini Schnauzers and just had a litter two weeks ago. "NO" I said. Well to make a long story short, I was at that breeders the following day to see the pups and Lexie was mine by the end of the week.

Our pups can never be replaced but a new little pup to love can sure ease the pain a bit. She is my little angel and I'm so glad that fate stepped in and brought her into my life.

She is so beautiful and such a little smarty pants and my husband and I Love and enjoy her so much. She literally saved both of our hearts.