It's Suri Rule
by Carolynn Y.
(Indonesia)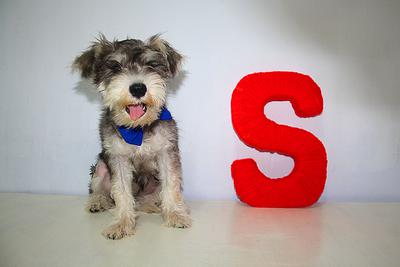 S for Suri
Hi, I'm Suri. My Mom always tells me that my full name on paper is Lady Suri but what's so important about that. Never before have people called me "Lady", nor that I act like one. I'm just 5 months old, I'm a puppy, see? What do you expect from puppies except of our adorable wagging tail and warm lick. What we want is just a comfy bed, toys, lots of treats and rubs all over us.

But I am not that spoiled actually. I did pretty much things to please my people. It was Mom who first taught me to behave well in front of people. I can do basic tricks very well, you name it. Sit, down, stay and go, those all easy. I learned pretty quick. Well, it's basically because the treats Mom offered was too delicious that I couldn't help but to obey what Mom said. People loves to play Stay and Go with me, they say I look so cute when I hold my self firmly not to eat the treat that they put right in front of me before they say "Go!".

I have a brother of white Toy Poodle with the same age. We live together everyday but I think I'm much mighty than him to rule the house. Of course I have to. My brother is so lazy, he just loves to sleep around and become a couch potato with my Mom's brother. That is why sometimes I have to nip his tail or ear to make him chase me. I'm helping to keep his metabolism going anyway. And yes, I am so active and playful. I make everyone happy and healthy.