My sweet little angel ... Mia
by Laura
(Houston)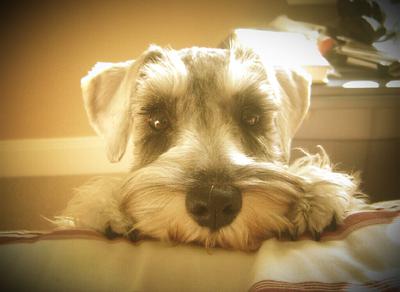 Is she the cutest thing or what!?
My sweet little Mia has been with me for 7.5 years. She is a cute little female Salt & Pepper Mini Schnauzer, and she has the most beautiful eyes in the world! Mia has a very sweet personality. She loves attention and she knows how to get it too! If I had to choose one word to describe her it would be SPOILED! Of course that' my fault but how can I not? She's just so cute and sweet.

I can't even begin to describe how much happiness she brings to my life. Mia is so much more than my furry companion. She is my baby, my best friend, my little sweetheart ... and whenever I get sick she is my little nurse, too (she takes good care of me). I love my little girl Mia. She's just the sweetest little Miniature Schnauzer with the longest eyelashes in all the world.