The rescued model!
by Ms. Iztac Martinez
(Waco, TX USA)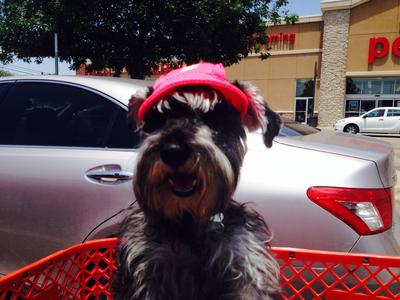 Cali @ PetCo
Woof woof = Hey everyone!

My name is Cali and I'm 1 yr old.

I was originally adopted about 6 months ago and I ought to say, I love my family a lot!
But life wasn't always happy for me.. My past owner did not care too much about me. I lived outside in the extremely hot Texas' weather and I wasn't properly fed or taken care of. I was very sad back then. Until the neighbor saved me.

However, the neighbor (who owns my biological parents) struggled to feed an extra mouth, luckily she had met my pet parent and knew how much he loves schnauzers. That's when things changed for me - I remember that when I met my now pet parents, I just loved them!

Now this is me! A happy little girl that loves going to PetCo and rock the trendiest outfits and the cutest accessories! I personally like this little hat because I like wearing it when I go for a walk with my parents! I also love being at home playing with my squeaky toys! I don't really enjoy doggie treats, but I love fruit! Among my favorite are little chunks of apple, bananas, watermelon and canteloupe! By the way, I really think they should sell doggie treats with fruity flavors.

Speaking of fruity treats, I got to go because now that our mini schnauzer family is growing, my two brothers, Cain and Bruiser, have a lot to learn and I'll be showing them how to properly behave. Which means that I'll be getting treats for obeying the commands! :)

Hope you all enjoy the pictures!