Fabulous Fizzie - music critic
by Charlotte Perrin
(Vista, Ca.)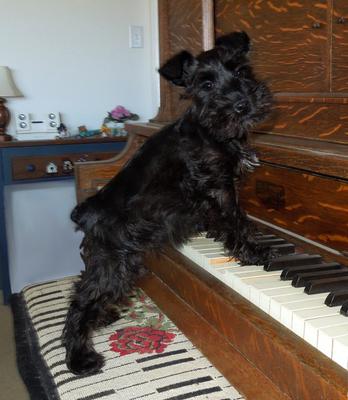 Fizzie rocks her audience!
Fizzie, a cute black Mini Schnauzer, was born 11-12-13, so she has the right to be very opinionated! She likes classical, and some contemporary music, but is not into rag, jazz or heavy metal. She is VERY interested in the moving keys of our player piano, though!

She and her 4 sisters and 1 brother recently went to their new homes, and I hear Fizzie is doing quite well entertaining everyone in her new family. The last sister Molly's sale fell through, so she is taking over Fizzie's spot on the piano bench until she finds her forever family. Mini Schnauzers are German, after all, and come by their musical genius honestly!!!

Fizzie's mom and dad go to the beach often since we live in Vista, Ca. If Molly is still with us after getting all of her shots, then she can go too! That will give us a whole new photo op! But, since so many folks know how awesome Mini Schnauzers are, they go to their new homes pretty fast! I take as many cool photos as I can before the babies are gone. How can anyone resist filling photo album after album with pix of these little angels (clowns!)?