Sweet Potato Dog Chews
by Schnauzers Rule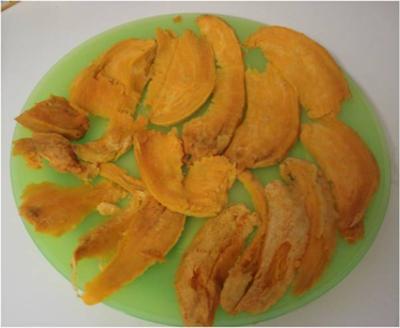 Sweet Potato Dog Chews
Does your Miniature Schnauzer love Sweet Potato Dog Chews?

With 5 oz. packages selling anywhere from $7 to $13 you will be able to save a bundle making these delicious treats right at home, courtesy of Schnauzers Rule! We created this recipe to be as simple as possible. Just a few easy steps and your Miniature Schnauzer can start enjoying a yummy Sweet Potato Chew for just pennies.

INGREDIENTS:
Sweet Potato

Wash sweet potato

Using a fork, puncture holes into the potato on either side

Cut the very tip ends off

Wrap the sweet potato in a piece of cling wrap

Cook in microwave for 3 to 4 minutes

Let cool

Cut very thin slices lengthwise

Place on microwave safe plate and continue cooking this time at 50% power for an additional 2 to 4 minutes. Turning pieces over half way through.
Directions:
Wash a sweet potato. I like using a vegetable brush to do this. Then take a fork and puncture both sides creating a total of 8 little holes. Next, take a piece of cling wrap and wrap the potato. Cook in your microwave for 3 to 4 minutes. Remove the wrap and let cool.
Once the potato is cool enough to handle, use a knife to score down the center. This will allow you to easily pull back the skin. Since potato is now soft, hold it steadily and cut very thin slices lengthwise. Place strips onto a microwave safe plate (see photos).
Microwave slices on 50% power for 1 to 2 minutes. Then flip the slices over and continue cooking for and additional 1 to 2 minutes on 50% power. Microwave time depends on your unit and what consistency you want them; chewy or hard and crispy. Just be sure to monitor the process so you don't overcook or burn them.
Once the slices have cooled off, place in a zip-lock bag and store in your refrigerator or freezer.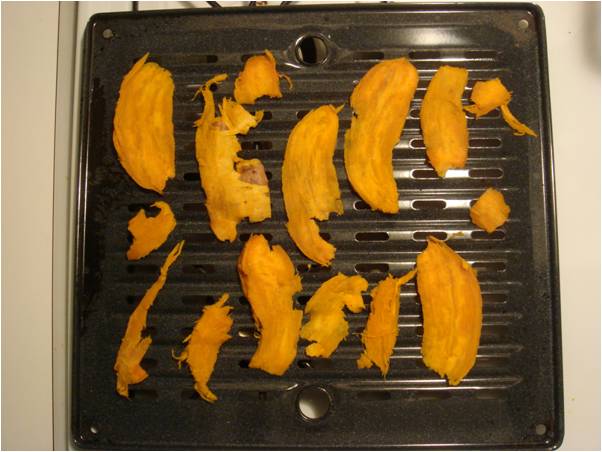 note:
If you prefer, you can cook and dehydrate sweet potato slices in your oven. Just cook them on a low temperature of 250 degrees. I use the top of my broiler pan (the grid attachment) and place the strips of potato onto it.
First, I spray it lightly with a nonstick cooking spray and after adding potato slices, place it directly onto the lower oven rack. The ventilation from the grids help cook the slices faster saving me both time and money. Bake for about 2 hours. Again, time depends on the consistency you desire.
I got a 5 lb. bag of sweet potatoes for $3.69. That will make lots of chews (the above photos are just from one medium sweet potato).
Sweet potatoes are low in calories, high in vitamins and minerals, a good source of fiber, and dogs love 'em. Make some for your Miniature Schnauzer today!