2007 Pet Food Recall Nightmare
The 2007 pet food recall was a nightmare that we thought would never end. For those of you who lived through it, you know exactly what I mean...
Tens of thousands of beloved pets were seriously sickened and dying as a result of consuming melamine contaminated pet food from China. Several years later, cats and dogs were still suffering from the devastating effects of the tainted food. This page serves both as a tribute to those loving pets that lost their lives, as well as a reminder of what happened then and why it is so important we never forget.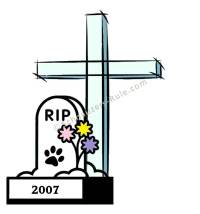 It was Friday March 16, 2007 when Menu Foods, a leading North American private-label manufacturer of pet products, announced a massive nationwide recall of over 50 popular pet food brands that were sickening and killing our cats and dogs. Over 60 million cans, pouches, and bags of pet food were contaminated with melamine. Melamine, an industrial chemical used to make a number of products, including plastics, glue and even concrete, was in the food we were feeding our pets! But how did it get in there? Why was it in there?

Just how could this have happened? It seems that Chinese suppliers added melamine illegally to artificially boost protein percentages of the food. Nevada based Chemnutra  then bought and imported the contaminated product into the U.S. and sold it to pet food manufacturers, like Menu Foods. Testing from the Food and Drug Administration (FDA) confirmed melamine contamination in the ingredients added to pet foods including: wheat gluten, rice protein, and other vegetable proteins. In other words, we were feeding our pets contaminated food and they were dying!

Menu Foods the largest manufacturer for big brand names like Eukanuba, Iams, Science Diet and Nutro Natural Choice, as well as private-label store brands for companies like Wal-Mart, Petsmart. Kroger, and Winn-Dixie had to recall over 60 million containers of pet food due to contamination. And cross contamination resulted in even more brands being recalled.
Forget their wholesome, nutrtional commercials. These money-hungry companies were producing poisonous pet foods that were killing our cats and dogs.
Important note: In 2010, three years after the massive 2007 pet food recall, Arkansas-based Simmons Pet Food Inc., acquired Menu Foods. Simmons Pet Food Inc. is a manufacturer of wet and dry pet food, and dry ingredients for dairy, cattle, aquaculture and pet food manufacturers. Their products are found on the shelves of several major retailers as well as regional grocery stores across the United States.
Since March 16, 2007, more than 150 brands of pet food have been voluntarily recalled by a number of different dog food companies. In the following months, consumers and veterinarians reported many more illnesses and deaths. Estimates were high as 350,000! It was a horrific.  The reported deaths of cats and dogs had been from kidney failure. Symptoms varied but usually included lethargy, jaundice and vomiting. If you ever notice any of these changes in your pet, contact your veterinarian immediately!

Charges Filed in 2007 Pet Food Scheme
On February 6, 2008, FDA announced that two Chinese nationals and the businesses they operate, along with a U.S. company (ChemNutra) and its president and chief executive officer, were indicted by a federal grand jury for their roles in a scheme to import products purported to be wheat gluten into the United States that were contaminated with melamine.
ChemNutra, a company that buys food and ingredients in China and imports them into the United States to sell, plead guilty to importing melamine tainted vegetable proteins responsible for the 2007 pet food recall.
Nevada Couple Pleads Guilty to Distributing Melamine Tainted Gluten
February 6, 2010 - A federal judge today sentenced two Nevada business owners to three years probation for distributing a melamine-tainted ingredient that triggered a massive pet food recall in 2007 and caused the deaths and illnesses of thousands of dog and cats nationwide.

U.S. Magistrate Judge John T. Maughmer also ordered Sally Qing Miller, 43, a Chinese national, and her husband, Stephen S. Miller, 57, to each pay a $5,000 fine. In addition, Whipple ordered the Miller's company, Chemnutra, Inc., to pay a $25,000 fine.

Today's sentencing ends a long legal case that centered on the involvement of the Millers and Chemnutra with importing and distributing the melamine-tainted wheat gluten used in the recalled pet food. The Millers and their company later pleaded guilty to one count of selling adulterated food and one count of selling misbranded food.

"By pleading guilty, Chemnutra and the Millers admitted that melamine was substituted wholly or in part for the protein requirement of the wheat gluten so as to make it appear the wheat gluten was better or of greater value than it was," Beth Phillips, United States Attorney for the Western District of Missouri, said in a statement released today. "They also admitted that the labeling of the wheat gluten was false and misleading because the wheat gluten was represented to have a minimum protein level of 75 percent, when in fact it did not. The labeling was also false and misleading because melamine was not listed on the label as an ingredient."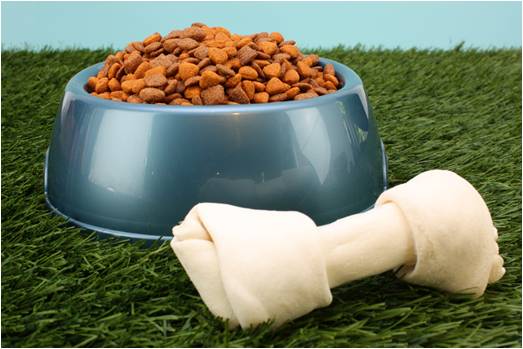 I will never forget or forgive the 2007 pet food recall nightmare. To those of you who were were personally affected by this unforgivable, horrific event and act of greed to profit at the expense of our pets, my deepest condolences.
If you are a new pet owner please don't think the 2007 Pet Food Recall was just a one time event. Unfortunately not much has changed in pet food regulations and China still imports ingredients to many pet foods.
Multi-billion dollar food companies brag about their year-end profits, yet dog food recalls are still to this day being announced:
Dog food recall: high aflatoxin levels detected

Dog food recall: salmonella health risk.

Dog food recall: potential to become moldy

Dog food recall: unapproved antibiotics found in product 
See what I mean? It's not over and will probably never be over.  Educate yourself on what's really in your dog's food so you can make an informed decision. Don't be fooled by fancy advertising campaigns, images of dogs running through green fields, and pet food commercials claiming to use only the best ingredients for your pet. Learn to read the dog food label and decide for yourself what is best to feed your Miniature Schnauzer. His life could very well depend on it.

For they may be gone, but never forgotten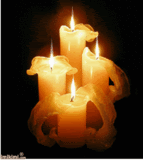 Remembering our Pets
Please join us in lighting a virtual candle to honor all the beloved pets who died needlessly from eating melamine tainted pet foods, manufactured by the big pet food companies who profited at their expense.
← Click image of candles to light a free virtual candle for a precious pet who lost his/her life because of the 2007 Pet Food Recall.
To our beloved pets: We have not forgotten you. We still shed tears for you and miss you terribly every day. You blessed our lives and filled our homes with love and happiness. We will be forever thankful for all the wonderful times we shared together. Until the day comes when we are reunited once again, please know you continue to live in our hearts. Fly high my sweet angels.
Write a tribute to honor the life of a beloved pet


Death leaves heartache no one can heal.
Love leaves memories no one can steal.


Pet Food: A Dog's Breakfast
Documentary, PET FOOD: A DOG'S BREAKFAST, investigates and takes viewers inside the world of pet food manufacturing. This documentary is essential viewing for every pet owner. Please find 45 minutes in your day to watch this video. Your Schnauzer's life could depend on it.


Since the 2007 Pet Food Recall  - Just say NO!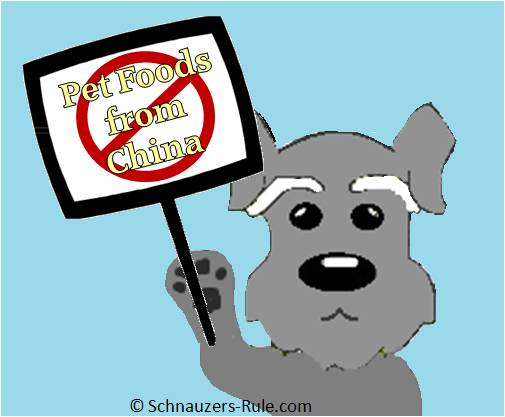 "Knowledge Share"... If you found this article on the 2007 Pet Food Recall helpful and informative, please share it with your dog-loving friends by clicking on one of the share links (like facebook, twitter, and google +1) located at the top right or bottom of this page.
Search Schnauzers-Rule.com
Custom Search
---
Go from 2007 Pet Food Recall to About the Miniature Schnauzer on Schnauzers Rule
Go from 2007 Pet Food Recall to Dog Food
Related Topics:
★ Best Dog Food for Schnauzers
★ Are Homemade Meals Better For Dog
★ Man's Best Friend, a Tribute to a Dog
★ Pet Loss
★ Schnauzer Angel Ecard