Peanut Butter and AppleSauce Cookies for Dogs
by Cindy
(Gig Harbor, WA)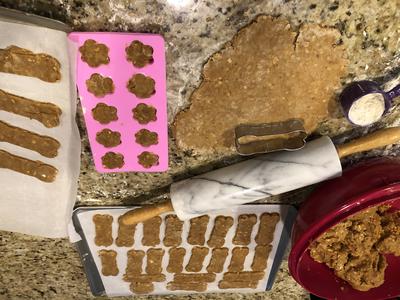 Ingredients
* 3 c whole wheat flour
* 2 c quick-cook oats
* 1 c peanut butter (smooth or chunky, your choice!)
* 1 1/4 c unsweetened applesauce
* 1 t baking powder
* 1/2 cup olive oil or coconut oil, optional

Instructions
1. Preheat oven to 350 degrees and cover 2 baking sheets with parchment paper.
2. In a mixing bowl, combine all ingredients well.
4. Knead dough on a lightly floured surface.
5. Use a rolling pin to roll the dough to about 1/4 inch thick and then cut into shapes with cookie cutters. If you don't want to use cookie cutters, simply make small dough balls.
6. Place cookies on baking sheet, approximately 1/2 inch apart.
7. Bake in preheated over for approximately 25 minutes or until lightly browned.
8. Let cool and then serve.

Notes
* Store uneaten cookies in an airtight container in the fridge for up to one week. I put some in the freezer and then replenish as needed.