Apple Cinnamon Oatmeal Dog Chews
by Schnauzers Rule
Apple Cinnamon Oatmeal Dog Chews
A Miniature Schnauzer favorite! My chewy oatmeal dog treats are super yummy and low in fat. Break off little pieces at a time and use as a natural dog reward treat when training your dog! Your Miniature Schnauzer will do just about anything you want for one of my Apple Cinnamon Oatmeal Chews. Super easy to bake so make some today!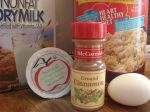 5 wholesome ingredientsApple Cinnamon Oatmeal Chews


1 Cup quick oats

4 oz. of unsweetened natural apple sauce

1/4 cup dry milk

1 egg

1/4 tsp cinnamon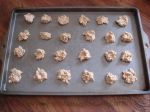 Preheat oven to 325 degrees. Combine all the ingredients into a bowl and mix well
(about 50 strokes).
Lightly grease a cookie sheet with non-stick cooking spray. Drop mixture by the teaspoon to create little quarter sized drops. Bake for 15 minutes. Yields about 45 treats! Yummy!