Miniature Schnauzer Training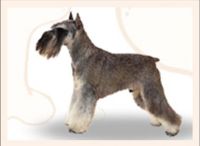 Free Schnauzer Training Course
Miniature Schnauzer training can be a fun and rewarding experience for both you and your Miniature Schnauzer. Through out this website you can find all the dog training lessons, techniques & methods to accomplish all your dog training goals. Whether you want to train your Miniature Schnauzer in obedience, tricks, solve behavior problems, or all of the above.
note: If there are any particular training needs you have that are not covered here, please use the Miniature Schnauzer training form at the bottom of this page. You can also read other dog training questions that have been submitted by others or help resolve someone's question on how to train a dog by sharing your dog knowledge and expertise.
Miniature Schnauzer Training Articles

---
Canine Good Citizen Canine Good Citizen Program, a 10 step CGC test that demonstrates a dog's good manners. Prepare your Miniature Schnauzer for CGC test.


Cool Dog Tricks Teach your Miniature Schnauzer these cool dog tricks: Shake, Push it, Find it, Pick up your toys, Crawl, & Dig.

Crate Training Your Miniature Schnauzer Puppy Learn the step by step process to easily crate train your Miniature Schnauzer puppy.

Miniature Schnauzer Destructive Chewing Learn how to stop your Miniature Schnauzer's destructive chewing behavior.

Schnauzer Afraid of Thunderstorms? If your Miniature Schnauzer is afraid of Thunderstorms, this information can help you calm him down.

Schnauzer Behavior Training By using positive training methods, like our 'Tricks for Treats' method or clicker training, you can change or teach your Miniature Schnauzer any behavior you want.

Schnauzer Obedience Training Train your Miniature Schnauzer to perform all the 5 basic obedience dog commands: Sit, Stay, Come, Down, & Heel.

Schnauzer Training Aids Having the proper training materials makes Miniature Schnauzer training a whole lot easier. Find out what you need to be successful.

Schnauzer Training Tips The 7 training tips to use that ensures your Miniature Schnauzer training is both a fun and positive experience for both of you.

Schnauzer Advanced Obedience Training Once your Miniature Schnauzer has master the basic 5 dog obedience commands take your training to the next level and him these advanced obedience commands: Watch me, Wait, Leave it, & Drop it.

Schnauzer Trick Training Teach your Miniature Schnauzer fun cool dog tricks like saying "I Love You", "Ring the Bell", and lots more.

Schnauzer Potty Training How to housebreak your Miniature Schnauzer in 2 weeks. Get results! Our easy 2 week method to housebreak your Miniature Schnauzer puppy.

Schnauzer Pet Etiquette Nothing beats having all your family and friends comment on how well behaved your Miniature Schnauzer is - and that's because you took the time to train your dog and practice Schnauzers Rule very own 10 Commandments of Good Dog Manners.

Schnauzer Puppy Training The minute you bring home your little bundle of furry cuteness, is when training begins. It's important to begin establishing the house rules right away to be successful in quickly training your new Miniature Schnauzer puppy.

Are you a Responsible Dog Owner Besides loving your Miniature Schnauzer, there are other responsibilities you owe your dog. Do you practice them all?

Miniature Schnauzer Separation Anxiety Find out what you can do to help calm a Miniature Schnauzer suffering with separation anxiety.

Schnauzer Indoor Exercise Sometimes the weather just doesn't cooperate with us having outdoor time with our Miniature Schnauzers. So check out these fun indoor exercises your Miniature Schnauzer can do to keep him from being bored.

Interactive Dog Toys & Games What's a great way to bond with your Miniature Schnauzer? Play some interactive games with him. Lots of fun toys, games, and puzzles you and your Miniature Schnauzer can play with.

Schnauzer Service Dogs If you're suffering from a disability, find out about service dogs and the training required.

Stop Schnauzer from Barking Well, you really can't keep a Miniature Schnauzer from ever barking, after all, that's one of the things they do best. But you can teach your Miniature Schnauzer when it is okay and not okay to bark.

Train your Schnauzer to Speak & be Quiet on Command You probably are thinking, my Miniature Schnauzer already knows how to bark, right? But teaching your Schnauzer how to 'Speak' and how to 'Be Quiet' on command can truly be the mother of all tricks for these little vocal pups.

Miniature Schnauzer Therapy Dogs Therapy Dogs provide affection and comfort to people in need (like at hospitals, retirement homes, nursing homes, etc...) AND Miniature Schnauzer make wonderful therapy dogs. Find out how to become a therapy dog.
FREE DOG TRAINING MINI COURSE: Here's your chance to grab the Secrets to Dog Training 6 Day Mini Course for Free. Written by Professional Dog Trainer Daniel Stevens. Just fill in the form below to get your free course.

Your Miniature Schnauzer Training Questions

Do you have a particular dog training question or dog behavior problem concerning your Miniature Schnauzer that you'd like answered right away? If so, fill in the Schnauzer Training form below.
Site visitors are encouraged to share their knowledge, dog training tips, and experiences, by posting answers to the questions. It's a good feeling when you can help someone else solve a problem. So don't be shy.

---
Have a Question About Schnauzer Training?
Do you have a great dog training tip? Or maybe you have a question about a particular training method or behavior issue concerning your Miniature Schnauzer. If so, we would love for you to share it with all of our readers right here! 150 words minimum
More Schnauzer Training Questions
Click on the links below to read some of the other dog training questions and techniques others have submitted.
How to stop Oscar from pulling/turning to see other dogs

Oscar is 13 months and adorable but pulls on his lead when other dogs are around. And he is so strong! I take chicken cut into little bits out on our walks …
How to stop dog from barking at new people and other dogs?

My fiance and I adopted a 6 month old mini schnauzer from a family that have a new born and both were fighting for the mother's affection/attention. Our …
Dog Digging

My 14 week old schnauzer puppy, Buddy, will not stop digging. I don't usually leave him out alone but sometimes I need to go get the phone or go to the …
Snapping Dog

2nd Owner of untrained young adult dog who has a problem with snapping at new owner 18 month old Miniature Schnauzer, male, neutered; previous owner …
dog to dog behavior

my miniature schnauzer does not behave well when passing other dogs. he will twist and/or pulls on the lead. if we try to stop to speak to the other dog, …
Chew Bone Anxiety

My female schnauzer gets very possessive over her chew bones. She will growl and snap at anyone who comes near her when she has a bone or is lying near …
Help My Dog Eats Everything

My mini schnauzer has a problem of wanting to eat anything and everything he finds on the ground. When he sees something, he quickly sniffs it and then …
excitement screaming on leash when he sees another dog

We are struggling with Kernal he is 18 months old was 5 months when we bought him he had not been socialized, he is perfect in every way apart from outside …
My Miniture Schnauzer won't play with toys..

I have adopted a 7yr old male and he doesn't play with toys, or show any interest in them. He does chase the cat playfully when coming in from outdoors. …
How do you stop a Schnauzer from tugging at his lead?

Every time i put the lead on my Schnauzer, he grabs the lead in his mouth and tugs on it like a toy. i have tried treats, water and commands, but nothing …
Teaching Dog to Heel

Why are you suppose to teach a dog to heel on your left side?
Potty Question

Does anybody have any experience with the poochie bells? They are talked about towards the bottom of this page: http://www.schnauzers-rule.com/housebreaking.html …
Schnauzer pulling leash

I'm having trouble walking my miniature schnauzer. She's always pulling me. I try to make her heel but as soon as I let up a bit, she's at it again. …
Miniature Schnauzer Barking Barking Barking!

I can't get my Mini Schnauzer to stop barking outside. When I come home from work I let her out and then I feed her and let her stay out for a while more, …
---
Go from Miniature Schnauzer Training to About the Miniature Schnauzer on Schnauzers Rule
Go from Miniature Schnauzer Training to Canine Good Citizen Program