Artificial Respiration and CPR for Dogs
Artificial Respiration and CPR for Dogs is a technique that is necessary to know how to properly perform on a dog that is no longer breathing and does not have a heartbeat.
If your dog stops breathing, time is of the essence in order to save his life. So please take the time now to thoroughly familiarize yourself with the necessary steps you'll need to take to resuscitate a dog not breathing. Hopefully you will never need to use it, but the more comfortable you are with the procedure, the more calmly you will be able to perform cardiopulmonary resuscitation (CPR) on your Miniature Schnauzer in an emergency situation.
Canine CPR in 4 Basic Steps:

Assess Responsiveness
Establish a Clear Airway
Begin Rescue Breaths
Circulation
The first you want to do is make sure your dog is not breathing. If you are not sure, check by placing a mirror in front of your Schnauzer's nose and look for condensation or place a piece of tissue paper in front of your Schnauzer's nose and watch for any movement.
Once you have determined that your Miniature Schnauzer is no longer breathing, it is time to begin artificial respiration to assist him in doing so.

Artificial Respiration for Dogs
Dog Trainer Saves Dog using CPR

Watch this amazing video of Canyon Crest K9 Trainer Ron Pace performing CPR on a boxer who suddenly collapsed and stopped breathing during a dog training session.



If your Miniature Schnauzer's heart has stopped... you must perform CPR immediately!
Before beginning compressions make sure there are no major points of bleeding that first need to be controlled. Your dog should be laying on his right side so his left side (or heart side) is facing up towards you.

CPR for Dogs
Kneel down next to your Schnauzer with your arms extended out over him, cupping one hand on top of the other.
Place your hands on your Schnauzer's ribs just where his elbows meet his chest.
Compress an inch and release quickly. About 2 compressions a second.
After 15 compressions, lean forward and blow air into your Schnauzer's nose, using the respiratory assist method above.
Continue alternating between every 15 compressions to 2 rescue breaths, until your Schnauzer's breathing and heartbeat return.
Once your Miniature Schnauzer is up and breathing on his own, call your vet. You will want him to examine your Miniature Schnauzer after the crisis is over with to ensure your dog suffered no internal injuries.
Caution: When dogs are in distress, they may bite or snap.
Be Prepared! Be Calm! Act Quickly!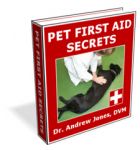 The Pet First Aid Secrets First Aid Manual,
by Dr. Andrew Jones, will show you the techniques you need to know to be prepared for an emergency with your Miniature Schnauzer.
You know your Miniature Schnauzer's behaviors, mental alertness, and physical appearance very well. Any time you notice a change from what you consider to be normal for your dog, could indicate that your dog is in distress and needs help. The chart below lists the Normal Vital Signs for Mini Schnauzers or other small dog breeds.
Normal Vital Signs for Dogs

Breathing
15 to 30 breaths per minute
Heart Rate
80 to 120 beats per minute
Temperature
100.5 to 102.5 degrees Fahrenheit
Gum Color
Light pink; Apply slight pressure with index finger and release after 2 seconds. The capillaries should refill within 1 to 2 seconds, returning the gums back to their normal pink color
Hydration
Lift skin on back of neck and release. Skin should return to normal within one second
Search Schnauzers-Rule.com
Custom Search
How to Perform CPR on Dogs
Heimlich Maneuver for Dogs ----->


"Knowledge Share"... If you found this article on resuscitating a dog not breathing helpful and informative please share it with your dog-loving friends by clicking on one of the share links at the top right or bottom of this page (like facebook or twitter). It could just save their life!
---
From Artificial Respiration CPR Dogs to All About the Miniature Schnauzer, Schnauzers Rule
Go from CPR for Dogs to Heimlich Maneuver for Dogs
Related Topics:
★ First Aid for Dogs
★ Miniature Schnauzer Health
★ Fire Safety and Dogs