Indoor Dog Exercise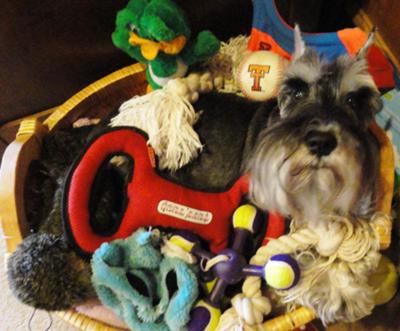 There's plenty of fun ways to exercise your dog when the weather is perfect outside. But what do you do when the weather isn't cooperating and you're stuck indoors for several days?
Or worse yet, what about when your must leave your Schnauzer alone for long periods of time like when you go to work or have an event to attend?
Schnauzer Walker and his dog toys
Dogs left alone easily become restless and bored. And when left to find ways to entertain themselves usually get into mischief. Instead of leaving it up to your dog to figure out how to self-entertain, you need to take a more proactive approach.
Indoor Dog Games
The following dog tips and indoor games are ways to help exercise and mentally stimulate the inside dog. Fun interactive dog games and toys for you both to engage in will help keep your Schnauzer exercised and mentally stimulated. Since Schnauzer love to chase dog bubbles provide a great way to exercise an indoor dog.
But when you aren't there to help motivate and entertain your dog, it's important your Schnauzer has things to keep himself busy during the day, especially if your Miniature Schnauzer is an only dog. Separation anxiety can lead to your dog developing undesirable traits like destructive chewing, simply because he is lonely and bored.
The solution: Provide your Miniature Schnauzer with lots of stimulating and different activities while you are away from home and if need be, hire a pet sitter. Below find a list of boredom buster dog toys and activities I'm sure your Schnauzer will enjoy....
The Dog Sitter Video: This video is filled with creatures that excite and delight all dogs with up to 8 layers of sounds along with subliminal messages that tell your Miniature Schnauzer he is a: "Good Dog, Good Dog".
The soundtrack is filled with the sounds of nature in stereo and it can play on a continuous loop for your Miniature Schnauzer to watch. You can even choose your dog's favorite scenes to have on a continuous loop. Now your Miniature Schnauzer will have company when you're away from home.
Kong Stuff a Ball: Just stuff with kibble or your Miniature Schnauzer's favorite treats. Kong's stuff-a-ball toy will help keep your Miniature Schnauzer contentedly busy for long periods of time.

As an added bonus, the patented dental ridges of the Kong Stuff-a-ball will effectively clean your Miniature Schnauzer's teeth and gums, too!
Animal Sounds Babble Ball: This toy will entertain your Miniature Schnauzer as it triggers interactivity whenever your dog touches it or when it receives any type of vibrations caused by your dog walking by it or breathing on it.
The Babble ball talks and make exciting animal sounds that pets will be sure to enjoy and it automatically turns off when you pet isn't playing with it. Each ball makes more than 20 different wisecracks or sounds, like "Rock 'n Roll Big Daddy," "Hey, What are you doing?," "Grrrrr!," "Sweet Puppy," and many more!
Hide a Squirrel: A toy with a Miniature Schnauzer's favorite vermin to hunt down, the squirrel! Prevents boredom and helps develop your pet's intelligence and puzzle-solving skills.
Just hide the 3 included soft plush squeaker squirrels inside the plush tree trunk. Your pet will have a blast poking around the trunk figuring out how to remove the squirrels. After your dog removes the squirrels, just place them back inside the trunk for more deductive fun.
Search for even more interactive indoor dog toys including puzzles, treat toys, long lasting dog chews, and more!
Next, we'll explore the fun interactive dog games and toys you can play with your dog.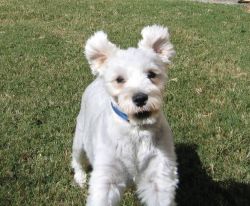 2 more indoor dog exercise tips:
1. Plan ahead of time - When there's a chance of bad weather approaching your area, be sure to take your Schnauzer out for lots of exercise before it hits. Go for a couple of more walks than usual, play outdoor games with your dog, or go to the dog park for the day.

2. Play Dates - How about dog play dates? Once the bad weather hits, other pet parents are faced with bored pets too. Why not invite one of your Schnauzer's doggy pals over so they can play with each other.
And if your dog must be left alone for an extended time period, consider taking your Schnauzer to a doggie daycare or hiring a pet sitter. You'll feel better knowing your Miniature Schnauzer is being cared for, exercised, and fed and you can tailor the visits to include lots of outdoor and/or indoor dog exercises for your Miniature Schnauzer! Check availability in your area!
Search Schnauzers-Rule.com
Custom Search
"Knowledge Share"... If you found this page on Indoor Dog Exercise helpful and informative, please share it with your dog-loving friends by clicking on one of the share links (like facebook, twitter, and google +1) located at the top right or bottom of this page.

---
From Indoor Dog Exercise to All About the Miniature Schnauzer on Schnauzers Rule
Go from Indoor Dog Exercise to Dog Exercise
Related Topics:
★ Interactive Dog Games and Toys
★ Dog Toys
★ Miniature Schnauzer Dog Care