How to Make a DOG SCRAPBOOK
A
dog scrapbook
or memory album is a great way to show off your lovable Miniature Schnauzer to family and friends. And it's not only easy to do it's a fun dog craft project for kids and just the whole family!
dog craft project tip: Be sure and start this project as soon as possible! Especially if your Miniature Schnauzer is still a puppy. They grow up super fast and you'll want to capture these precious moments of time.
Items for Your Dog Scrapbook Album
Start with an empty shoe box, for example, and begin placing any little item that says something about your Miniature Schnauzer in it.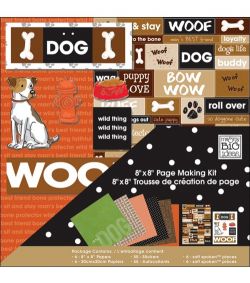 Dog Themed KitsContent suggestions for album
photos
drawings
paw prints *
piece of fabric from favorite toy / blanket
copy of pedigree papers
Old dog tag
puppy teeth
birth record
a piece of fur
record of accomplishments
cards received
journal memorable moments
short stories
dog quotes
*dog craft project tip: You can create your schnauzer's paw prints by using washable non-toxic finger-paint. Simply sponge some of the paint on the bottom of pads. Have your schnauzer walk across a piece of construction paper or doily. Then rinse the remaining paint off his paws!

Take Lots of Pictures of Your Schnauzer
Take lots and lots of
photos of your Miniature Schnauzer
. You will want to especially get lots of pictures of your Miniature Schnauzer puppy's 1st year. They grow up so fast!
Include vacation photos, outdoor play time photos, photos of your Miniature Schnauzer's 1st birthday and your Schnauzer's 1st Christmas. Even get pictures of your Miniature Schnauzer with his vet or learning a dog trick, having his 1st bath or a photos of grooming sessions and include them in your Miniature Schnauzer's dog scrapbook.
And your scrapbook will really 'bark' if you use 'action shots' or photos that tell a story. These type of pictures are way more entertaining than just posed photos of your Miniature Schnauzer.
Read more on how to take great Miniature Schnauzer Pictures here!

Supplies for Your Schnauzer's Scrapbook
dog craft tip: The supplies list below is meant as a guide only. Use more or less materials as needed.

Dog Themed KitsCraft Supplies List
glue sticks
glitter sticks
colorful paper
double stick tape
scissors and shape cutters
color markers
cardstock
hole puncher
rub-ons
embellishments
stamping
stickers
dog craft project tip: Use acid free materials to ensure your album lasts for years to come!
Assemble Your Schnauzer's Memory Album
Now just put together your dog's memory album any way you like. How about a chronological album? OR a "theme based" album?
Let's take a look at some pages from an album to get inspiration: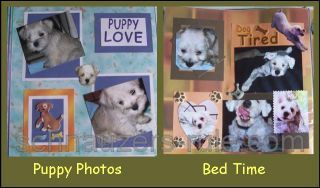 Shape your photos
Create interesting shapes of your photos. Notice in the pictures how some photos have been cut to include just a silhouette, or have been cut with decorative edges using art scissors, or cut into different shapes like a heart that frames the image.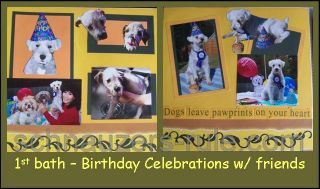 Tell a Story
Group photos together on a page so they tell a story. Take lots of photos of events: at a dog party, at the dog groomer, or perhaps of your Miniature Schnauzer during an agility event... and then group your pictures so they describe the day.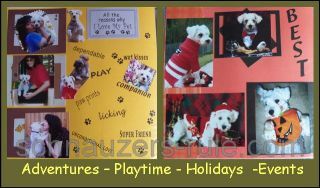 Make the most of the pages background
Be sure to use colorful background pages, action shots, and include funny quotes to make your album even more entertaining. You can also add stickers and other embellishments to really make your pages pop!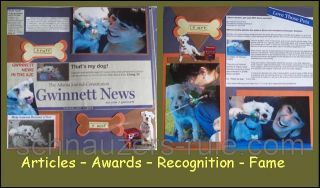 Write a story about your Schnauzer
Include stories written about your Miniature Schnauzer or write a short story about your dog yourself. Also, be sure to add awards and/or certificates your Schnauzer may have received. After all, your dog scrapbook is your Miniature Schnauzer's brag book too!


One last tip: Try and keep your dog scrapbook pages easy to read by not overcrowding the pages.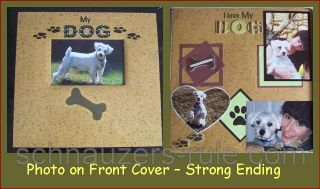 A keepsake that lasts forever

In the end, you've created a true keepsake you'll treasure forever that celebrates your Miniature Schnauzer's life.


Be sure and check out all the other fun dog craft projects, (see below) including yummy homemade dog treats, making your very own dog toys, dog beds, and lots more!
dog craft tip:Check out the dog scrapbook kits which include themed paper and a variety stickers, glitter stickers, epoxy stickers, rub-ons, ribbons and soft spoken pieces.

Got a craft project or idea you'd like to share with us?
We'd love to here it!
Just fill out the Dog Crafts & Pet Projects form.

---
DOGGY FUN TIMES: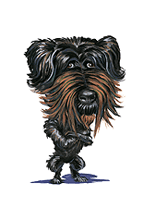 Schnauzer Caricatures
Search Schnauzers-Rule.com
Custom Search
---

Go from Dog Scrapbook to About the Miniature Schnauzer on Schnauzers Rule