Got a Spoiled Dog?
Do you have a
spoiled dog
? Does your Miniature Schnauzer rule your world? I know, it's really hard to resist the charms of a Miniature Schnauzer. But just in case you are not sure, here's a Top 10 list that will confirm whether or not you have a spoiled rotten Miniature Schnauzer living in your home: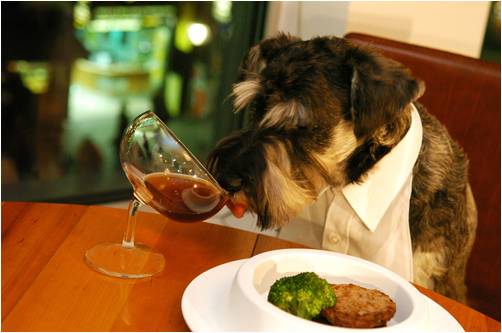 photo credit: Alice Wang

Pet plus offers various packages acting as social supplements encouraging further interaction between humans and their dogs. Pet Plus invites you to embark on a brand new social adventure!
10 Signs of a Spoiled Dog
You let your Mini Schnauzer pick a spot on your bed first and then try to get comfortable with whatever room is left for you.
Your Miniature Schnauzer has an armoire of designer doggy clothes.
You have more pictures of your Miniature Schnauzer in the family photo album than of anyone else.
You buy your Miniature Schnauzer an outfit because it matches yours.
You email family and friends your Schnauzer's wish list, so they'll know exactly what he wants for Christmas.
You Miniature Schnauzer has his own facebook page & twitter account.
Your Miniature Schnauzer has his own email address.
Your Miniature Schnauzer has his own retirement account.
Your Miniature Schnauzer gets credit card offers and catalogs in the mail.
While preparing meals in the kitchen, your family constantly asking you: "Is that for us or Finnegan?
photo by Mary Jo Bopp
Other Ways to Indulge Your Schnauzer

Here are some other ways you can be on the path of pooch pampering:
Add some bling to your Schnauzer with a new charm or sparkle dog collar.
Get matching NFL jerseys to wear on game day!
Take along a pet stroller on long walks in case your Schnauzer tires. Actually pet strollers are great for those of you who take your Schnauzer everywhere (shopping, jogging, day trips....) and they're also good for aging dogs that can't move around as quickly or easily as they once did.

Bake your Schnauzer some homemade dog treats.
Set some time aside daily for belly rubs or a nice  dog massage.
Let your Schnauzer have his/her on pot on the furniture.
One day a week (without fail) take your Schnauzer to the dog park.
Engage and entertain your Schnauzer with interactive dog games .
Be sure your Schnauzer follows the house rules (see photo below).
of course I'm spoiled... I'm a Miniature Schnauzer!
Why not indulge yourself a bit, too!
Okay do we really need a reason to shop? Check out these fantastic Miniature Schnauzer Gifts from Animal Den. Or how about treating yourself (or another Schnauzer lover) with a fun gift that just screams I LOVE MY MINI SCHNAUZER! We even have our own designs put on products at our Schnauzers Rule Zazzle Shop like our Smoochies Coffee Mug!
Got a spoiled dog? Share with us some of the extraordinary ways you pamper your Miniature Schnauzer below:
---
Go from Spoiled Dog to About the Miniature Schnauzer on Schnauzers Rule
Go from Spoiled Dog to Dog Jokes
Related Topics:
★
Dog Quotes
★
Create a Free web page for Your Schnauzer
★
Enter Schnauzer Photo Contest