Free Online Games - Schnauzer Style

You deserve a break so relax a bit and try a few of these free online games! Featuring a crossword; word search; jigsaw puzzle; and a printer-friendly connect-the-dots game for your kids too!

• Schnauzer Themed Crossword Puzzle - All answers going ACROSS and DOWN have something to do with Schnauzers, even though the clue may not hint to it. Can you solve it?

• Schnauzer Word Search There are 15 words hidden in the search puzzle. Can you find them all?

• Connect the Dots Here's a printable Mini Schnauzer Connect-the-Dots game for kids. Connect-the-Dots is a great way for kids to learn their numbers as they draw a line connecting one dot to the other in the right number order. After all 48 dots have been connected, they can color their Mini Schnauzer.
---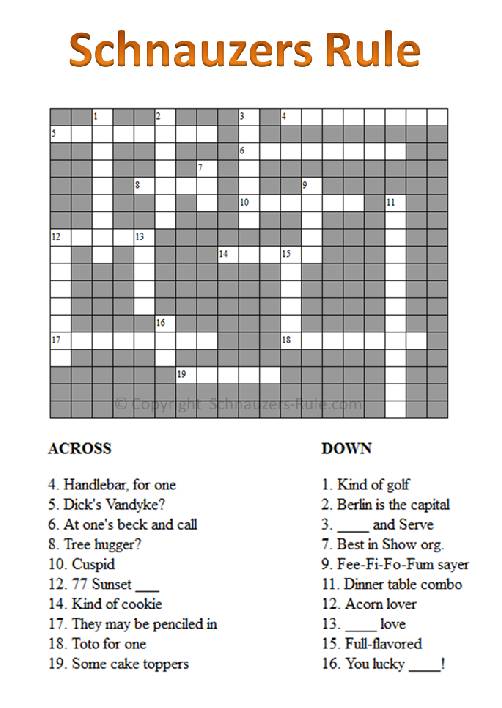 If you get stuck, ask your facebook friends to help you play along. See comments section at bottom of page. Or if you like print the Schnauzer crossword puzzle to work on it.
---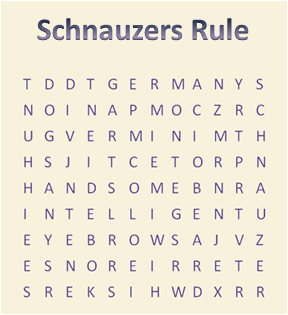 Can you find all 15 words? HINT: Remember all the words used are somehow associated with Schnauzers. Find a word and post an answer in the comments section below.

You can also choose to print the Schnauzer Word Search and work on it at your leisure. 14 of the 15 words are listed to help you out. Advanced word search players may find even more words.

---
Simply click on the photo below and a new page will open for a printer-friendly version of the game. Kids can then connects-the-dots in the right numerical order and afterwards color in their Mini Schnauzer drawing.

---

Go from Free Online Games to About the Miniature Schnauzer on Schnauzers Rule
Go from Free Online Games to Schnauzer Trivia