Schnauzer of the Month Photo Contest
November Schnauzer Contest is now Closed.
This Month's winner....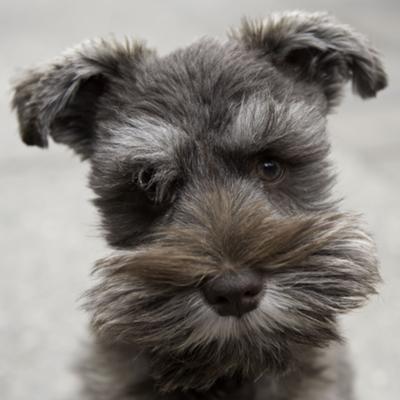 A big thank you to all our contestants for sharing such wonderful photos of your Miniature Schnauzer with us. Judges always have such a difficult task in choosing just one winning photo from so many cuties!
Click here to find out all the details on how you can enter your Miniature Schnauzer in our next Schnauzer of the Month photo contest!
---
See All The Contest Entries
Charlie was adopted from the NJ Schnauzer Rescue Network when he was about 9 months old. He loves playing with toys, especially stuffed animals and tug ...
Miniature Schnauzers Eden & Sage
This picture is of Eden (the light grey one) and Sage (the black and silver.) Eden is 4yrs, and Sage is 20 months old.

They really keep our household ...
This is a picture of my now, 4year old, salt and pepper mini at the age of 3 months. She was the only puppy in her litter, and acts like the "diva" she ...
We had a schnauzer named Max for 14 years and had to put him to sleep in December 2008 right before Christmas. Needless to say it was a very rough time ...
Jasper joined our family about 7 months ago and we have never looked back. In fact, we don't know why we waited so long to adopt a dog. Jasper loves ...
The stinky, fluffy, jolly bundle of mischief you see here is my three year old Miniature Schnauzer, Archie.

After my aunt became ill, she couldn't take ...
Xander was born in the state of Alabama. He and his two brothers traveled all the way to Michigan to be adopted.

In this photo he is sporting ...
Tex is a 3 month old male miniature schnauzer, who was recently adopted into our family. He loves nap time and any time he can eat! He's friendly, loves ...
Miniature Schnauzers Dixie and Tex
Dixie, a female miniature schnauzer, was adopted into our family at 6 weeks old. She acts just like her mother (that would be me)...she's a picky eater,...
Augie is such a funny little puppy full of personality. He loves running around and playing with our cat. He has a favorite stuffed giraffe that he babies ...
Mini is our 9 yr old schnauzer. She has two schnauzer sisters Honey and Mandi. Mini likes to watch everyone else play and run, then she follows and helps ...
Mandi is 7 yrs old and has two schnauzer sister Mini and Honey. Mandi loves to run and jump through the back yard and ride in the car.
Honey is 3 yrs old and loves to play, play, play. She has two miniature schnauzer sisters, Mini and Mandi.

She loves to chase her balls or just carry ...
This is Butch, he is about 4 month old in this picture, but he is almost 1 year old now. He is a great friend, very kind and loving. He can be so stubborn ...
Miniature Schnauzers Paycheck and Hotshot, Canadian Champs
I got my first Miniature Schnauzer in 1986 in Colorado, and quickly fell madly in love with the breed. The intelligence and personality have to be experienced ...
Mini Schnauzers Foxfire's Radiant Challenger and puppy
I got my first Miniature Schnauzer in 1986 in Colorado, and quickly fell madly in love with the breed. The intelligence and personality have to be experienced ...
Shirlu's Dollars and Scents as a four month old puppy
Rambo is 9 months old and has made our family complete! We got him through a friend who's mini had puppies. When we went over to look at the pups, I sat ...
As you all know, the personality and intelligence has to be experienced to understand our passion for the breed. I adopted Dollar from a show breeder at ...
Jasmine is almost 4 and full of Personality!
I had No idea of the Schnauzer Ownership Rules. Until about a year ago when I was on Myspace. When I read ...
Olive is our second mini schnauzer. After we got our first, Monty, we just had to get one more. Plus we promised Monty his own puppy if he was good and ...
Miniature Schnauzer Kosher   When I am not taking Kosher with me, I tell him go to the window to say bye, he'll jump on the back of the loveseat and watch me leave through the window....
Miniature Schnauzer Izabella  This is Izabella, She joined our family last Sept '09. Izabella has 2 brothers and 1 Sister whom she loves dearly :). Her favorite thing to do is visit ...
---

Go from Schnauzer Contest November 2010 to About the Miniature Schnauzer on Schnauzers Rule
Go from Schnauzer Contest November 2010 to Miniature Schnauzer Contests