Miniature Schnauzer Jasmine
by Christina M. Leigh
(Milwaukie,Oregon)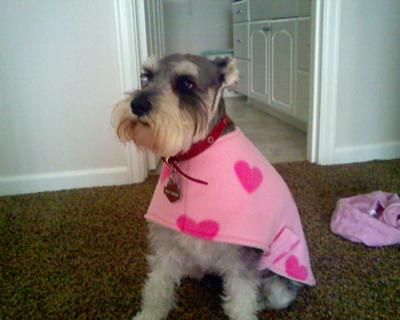 Miniature Schnauzer Jasmine
Jasmine is almost 4 and full of Personality!
I had No idea of the Schnauzer Ownership Rules. Until about a year ago when I was on Myspace. When I read the "Everything is Mine." or "What isn't mine will be Mine!"

Well that Is Jasmine! Especially Blankets! She will drag her Lime Green Dollar Tree Blanket to you and she will Demand you Play Tug Tug! If you do not do it right...I have to show you! Meaning: I have to get on all 4's, place 1 end of the blanket in my mouth just like her and Tug!!! She is Gentle and when she feels you are done. She will walk up and Give you Kisses!!!!

Another thing about Jasmine is she is Truly a Momma's Girl!! Every time I leave if there is food in her dish. You can guarantee that food will still be in her dish when I return.
My Jasmine has walked in and took over! Literally! Not just the Home, The Bed Especially the Bed. But, the family's lives and My Heart!