Dog Greeting Ecards
Send
FREE Dog Greeting Ecards
to family and friends. Our Schnauzer themed ecards come in lots of choices so you are sure to find one that will be perfect to brighten up someone's day.
Select from these adorable
dog greeting ecards
: Miss You, Friendship, Congratulations, I Love You, Hello, New Pet Announcement, Cute Schnauzer Blank Card, Happy Birthday, Pet Loss ecard, or even send one to a friend's dog to wish their Schnauzer a Happy Woofday!
Write a personal message from yourself or from the family dog..
SEE EXAMPLES:
Friends and family will appreciate your thoughtfulness and kindness for remembering them AND you can send as many as you like, as often as you like because they're always...

FREE ..... FREE ..... FREE

Please note: Our Ecard system is currently down. We apologize for the inconvenience and hope to get it up and running soon.

Send Schnauzer Themed Ecards

Step 1: Which Ecard Would You Like To Send?
Click on a card to see the full size image

Friends

Birthday

Congratulations

Hello

Love

Funny

Cute

Miss You

New Pet

Pet Loss

Cute

Pet Birthday
Step 2: What message would you like to send?
Hit return key here----------- |
Step 3: Preview/Send the card

| | |
| --- | --- |
| From: | Your email address: |
| | |
| To: | Recipient's email address: |
| | |

I would like to send this card to more than one recipient

Send on a specific date
Leave today's date to send now
Tell me when my card is viewed:
Here are a few examples of our
dog greeting ecards
to hep inspire you:
Meet our New Furbaby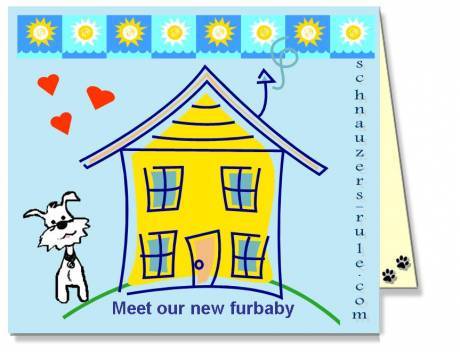 FROM: (Your Name)
TO: (Your Family & Friends)

Hi Everyone! I am thrilled to tell you all that a new furry friend named Tabitha has just joined our family. She is the cutest little Mini Schnauzer I have ever seen. Can't wait for you all to meet her.

Love, Ellen, Jason, and Tabitha!
You can also
create a free web page for your Miniature Schnauzer
and share its URL in your pet announcement message so your friends can stop by and see pictures of your new dog and read your Schnauzer's story. They can even post comments on your page, too.
Happy Birthday Printable Pet Card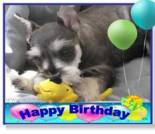 FROM: (Your Name)
TO: (Recipient Name)

It's your Birthday!
I hope your day is filled with lots of
love, surprises, and smoochies!

Happy Birthday!

I Love You Printable Pet Card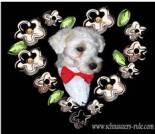 FROM: (Your Name)
TO: (Recipient's Name)

You are always in my thoughts
And the reason I smile every day.
Thank you for filling my life with joy.

I Love You!


Funny Printable Pet Card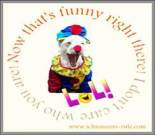 FROM: (Your Name)
TO: (Recipient's Name)

And then the dog says...
'cuz you can't bury them in trees!

Thanks for always making me laugh.
You really crack me up!


"Knowledge Share"... If you enjoy our free dog ecards please share this page with your dog-loving friends by clicking on one of the share links (like facebook, twitter, and google +1) located at the top right or bottom of this page.

You can view even more cards for other special occasions by clicking on one of the related links below.
---
Go from Greeting Ecards to About the Miniature Schnauzer on Schnauzers Rule
Go from Greeting Ecards to Free Dog Ecards
Related Topics:
★
Schnauzer Holiday eCards
★
Schnauzer Dog Ecards
★
Valentine's Day Thank You Card