Thank You Valentine Card
Hey pups... Want to do something really nice this Valentine's Day? How about sending your Veterinarian a Thank you card to let him know just how much you appreciate him for taking such good care of you.

Click here to print card.
Our veterinarians work hard at keeping us healthy and feeling good all year long, so don't they deserve a little love on Valentine's Day, too?

Just think how surprised your Vet will be when he opens up this special thank you Valentine card from his favorite Miniature Schnauzer. Who knows, you might even get an extra treat or two on your next vet visit.

So take a few moments and print out this free thank you card and surprise your Vet on Valentine's Day.

Here's how...........
Click on this link:

Print my Free Schnauzer Valentine Thank You Card

which will open a new page in your browser.

Print the card on 8.5 x 11 piece of paper or if you like on card stock for even better print quality. (To print, locate the drop-down menu for your browser and select print).



Now don't be alarmed when you first see the image..... it is suppose to look upside down. :)




Fold the Card:

Once you've printed the card, fold the paper in half from top to bottom (or lengthwise). Then, fold it once more in half width-wise. And that's all there is to it.


Sign & Mail: Now all you need to do is sign your card anyway you want, put it in an envelope stamped and addressed to your Vet's office and mail it!
We also have a thank you card available on Zazzle. You can customize it with your own message and even change our Schnauzer drawing to an actual photo of your dog, if you like.

Inside the card reads:

Thanks for taking such good care of me.

I think you're pawsome!

Happy Valentine's Day

Why I love my Veterinarian
We can judge the heart of a man by his treatment of animals. ~ Immanuel Kant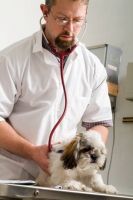 Most of us only see our pet's veterinarian for their annual check-up or heaven forbid, an emergency. So it's no wonder why our dogs associate the vet office as... a very scary place. Heck, I'm the same way when it comes to going to my dentist. I get all anxious and tense up anticipating... PAIN! The big difference is, I can explain to my dentist where it hurts.

Vets on the other hand, are caring and treating animals which cannot express into words what's bothering them. They must rely on the information we provide them and the symptoms of the animal. I can only imagine how stressful, emotional, as well as dangerous at times, their job must be.

I am lucky to have a vet that has a gentle comforting way about how he cares for my Mini Schnauzer. He never rushes us through visits and always answers all my questions. What about your Schnauzer's veterinarian? If you love the way your veterinarian cares for your Schnauzer, send him (or her) a Happy Valentines Day thank you card this year letting him know just how much you appreciate all he does to keep your Miniature Schnauzer healthy and well.
Why do you love your Veterinarian?
Valentines Day Cards & Gifts

You can also personalize special Schnauzer Valentine Cards and gifts at our Zazzle shop.
Get even more Valentine gift ideas by visiting this page: Valentine Puppy. And if you have small children in your home who love to color, we have printable Puppy Valentine Coloring pages for kids on that page, too!
---
Go from Thank You Valentine to About the Miniature Schnauzer on Schnauzers Rule

Go from Veterinarian Thank You Valentine Card to Miniature Schnauzer Gifts

Related Topics:
★ Puppy Dog Valentines Day Gifts
★ Free Holiday Ecards