Canine Pancreatitis
Pancreatitis is a condition where the pancreas become inflamed and do not produce the proper enzymes for digesting food. Unfortunately, Miniature Schnauzers are prone to this disease due to the high levels of lipoproteins in their blood streams.
As a Miniature Schnauzer owner, it is therefore imperative that you make sure your dog does not eat a high fat diet or become obese. Learn to read and understand your dog's food label and don't feed your Schnauzer table scraps.
How the Pancreas Function:

The pancreas is a a small gland that serves two separate functions in the body:
it secretes hormones, including insulin and glucagon, which regulate the blood glucose (

canine diabetes

)

it produces digestive enzymes that break down the molecules of food so the body can digest and absorb the nutrients.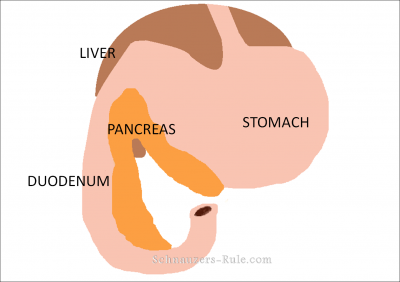 Here is a description of how food is processed and digested, in the simplest of terms:
When your dog eats, the food is transported to the stomach where gastric juices begin to mix and break down the food further. The partially digested food can now pass from the stomach to the duodenum.
The duodenum is the first part of the small intestine where the digestive juices from the pancreas begin to aid in the absorption of vitamins, minerals, and other nutrients. The duodenum also receives secretions of bile from the liver and intestinal juice from the glands in the intestinal wall.
The digestive enzymes that are produced and stored in the pancreas include trypsin (which breaks down proteins), amylase (which breaks down starches), and lipase (which breaks down fats).
If the pancreas is not functioning as is should, the proteins, starches, and fats cannot be absorbed through the cells of the intestinal wall to provide the nutrients the dog needs (pancreatic insufficiency). Instead they remain in the gastrointestinal tract and pass out in feces. And although your dog may be eating, his body is not receiving any of nutrients and actually begins to starve!
Repeated bouts of an inflamed pancreas or pancreatitis, is a direct cause of pancreatic insufficiency. Again, pancreatitis is the actual breakdown of the pancreas themselves usually brought on by high fat foods which trigger the pancreas to secrete large amounts of digestive enzymes which then leak out and destroy the pancreas itself.
Any time your Miniature Schnauzer exhibits unexplained signs of pain, pancreatitis should be suspected. Tests used to evaluate the performance of the pancreas include x-rays, ultrasound, urine tests, and blood tests to help determine the levels of certain digestive enzymes in the blood.
Warning Signs of Pancreatitis
Pain




Vomiting




Restless




Reluctant to move




Weak




Irritable




Diarrhea




Loss of Appetite
Most cases will require the hospitalization of your Miniature Schnauzer for several days to a week. And your vet will probably place your Miniature Schnauzer on a strict diet plan that restricts fat consumption completely.
dog health tip: It only takes one high fat meal to cause the onset of pancreatitis. Many veterinarians have reported sharp increases in cases during the holidays (like Thanksgiving)! No fattening table scraps for your Miniature Schnauzer!

With this in mind, you might want to also ask your vet about supplementing your Miniature Schnauzer's diet with Enzymes & Probiotics. High-performance enzymes, will help insure complete digestion and assimilation of all your Miniature Schnauzer's dog food at a cellular level.
PLUS, used in conjunction with a probiotic, which helps boost the immune system, aids in digestion, and removes toxins - you know you're helping your Miniature Schnauzer be as healthy as possible.
Find out more about these supplements and how they can help improve the overall health of your Miniature Schnauzer. 

Enzymes & Probiotics for dogs.
Total-Zymes plus Pro-Biotics Success Story: Review by Yvette

I wanted to thank-you for the Total-Zymes plus Pro-Biotics. I have a mini Schnauzer(Boost) that is 13yrs. old and has many health problems (cushings, diabetes, allergies, cataracts, ear and skin infections, and most recently pancreatitis). She has seen many specialists and been on many medications (Atopica, Simplicef) that could harm her liver even more than it is already. We did/ and do everything we could for her and spend lots of money trying to help her the best way possible. She was always sleepy and tired, and any little thing that upset her would make her sick. Since she has been using your product she is like a puppy. She plays, runs around, and stays awake longer an she use to. I know nothing can cure her with everything she has but its alot better now . Most of her problems are less and she is more happy. So again Thank-You very much for giving me my puppy back. Yvette (Total-Zymes Plus Posted on 12/14/09)
---
Also check out: PetAlive Liver and Immunity products
This products is used to promote pet liver, gallbladder and pancreatic health.
Improves liver, pancreas and gallbladder health

Facilitates systemic detoxification and blood purification

Maintains healthy production of insulin and bile

Maintains blood sugar levels within the normal range

Promotes healthy digestive and metabolic functioning

Encourages vitality and healthy energy levels
Consult with Your Vet About Supplements
Bio case V Homeopathic is an excellent pet medication that acts as a digestive aid in replacement therapy. It is especially useful in conditions where digestion of protein, carbohydrate and fat is inadequate due to exocrine pancreatic insufficiency.

Viokase-V - Pancreatic Amylase, Lipase and Protease Supplement. Medication used to aide in digestion when given with meals.

Epizyme Powder - For use in animals with deficient pancreatic secretions. As a digestive aid in enzyme replacement therapy where digestion of carbohydrates, protein and fat is inadequate.

Panakare Plus Powder - For use as a digestive aid in replacement therapy where digestion of protein, carbohydrates and fat is inadequate due to exocrine pancreatic insufficiency.
Homemade Diet for Canine Pancreatitis
Feeding your Schnauzer a more natural diet may prove beneficial as it may be easier for them to digest. However, pancreatitis can be life-threatening and you should NEVER change your dog's diet or supplements without first consulting with your veterinarian.
The following list of foods are safe for dogs and are low in fat. Simply prepare your Schnauzer a meal by combining foods from the list. (see example diet below)
Lean Cuts of Poultry and White Fish: Chicken, Turkey, Tilapia (boneless and skinless)

Overcooked Starchy Foods: White rice and oatmeal that have been prepared with extra water so the consistency is very mushy, making it easier to digest.

Fruits: Bananas, blueberries, apples, cantaloupe

Vegetables - Sweet potatoes, carrots, peas, green beans, spinach, zucchini, pumpkin, squash, bell peppers, cabbage (steam or boil veggies well so they are soft and easy to digest)




Dairy: Eggs, low-fat plain yogurt, low fat cottage cheese
Other tips:

Add Omega-3 fats, like Salmon oil

Use filtered water

Feed very small meals but more frequently throughout the day.
Homemade Diet Example
Breakfast: Cook one egg in a non-stick fry pan.
Snack or Treat: 2 tablespoons of low-fat cottage cheese.
Lunch: 1/2 cup Chicken & Veggies
Boil 4 chicken tenderloins (from frozen bag of boneless, skinless chicken tenderloins).




Prepare 1 cup of cooked oatmeal. Then to it add an extra 1/2 cup of water.

Steam 1/4 head of cabbage, 2 squash, 1/2 cup chopped spinach.
Once each item has been prepared and cooled we want to mix them all together. But before you do, dice or cut meat and vegetables into small pieces. Next scoop out 1/2 cup of the mixture and place into your Schnauzer's bowl. Now you are ready to add any additional supplements, Omega-3 fats, and pre-biotics to his portion and serve.
Snack or Treat: 1/4 - 1/2 banana mashed

Dinner: 1/2 cup Chicken & Veggies
Snack or Treat: 10 bluberries with 2 tablespoons low-fat yogurt.
Please note: This homemade diet is just an example of one day's low fat meal for your dog. Please be sure to consult with your veterinarian or seek the help of a holistic vet, if you want to feed your dog suffering with pancreatitis a natural diet. Your veterinarian will ensure the foods are appropriate and guide you as to what supplements will need to be added to your dog's diet.
Next Up - Schnauzer Bumps

Miniature Schnauzer Health Series
More Dog Health Information:

---
Got a question about your dog's health. Using the form below you can get an answer back from a Veterinarian or Vet Tech (often within minutes). Experts on call to answer your questions every day, at all hours when you need them most! Fees are typically only $9 - $15.
And you pay only for the answers you like!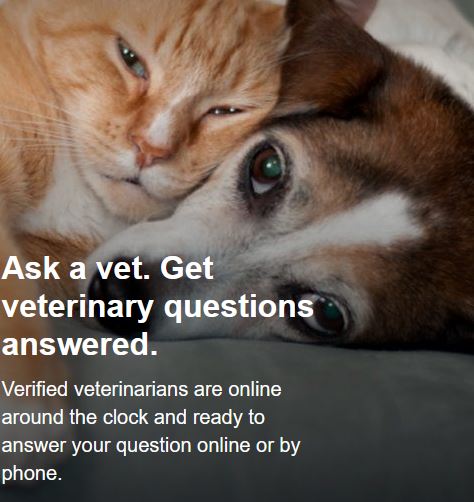 It can be hard to decide if a pet needs to visit the vet, especially as it can mean trauma for your pet to travel, and weekend and late-night questions create special problems. The veterinary experts on JustAnswer are available any time, and can provide diagnoses, guidance and advice.
Get an answer back from a Vet or Vet Tech (often within minutes). Experts on call to answer your questions every day, at all hours when you need them most!  

What an easy and fast way to get a second opinion from a dog expert! PLUS its 100% satisfaction guaranteed!
---
Go from Pancreatitis to About the Miniature Schnauzer on Schnauzers Rule
Go from Pancreatitis to Dog Health
Related Topics:
★ Schnauzer Health
★ Thanksgiving Safety for Dogs
★ Miniature Schnauzer Health