New Year Resolutions for Dogs & Their Owners

At the end of every year, most of us make New Year Resolutions, hoping to make some real positive changes in our lives. We vow to start a new diet plan to lose weight, begin an exercise regimen, stop any number of bad habits we have, and so on....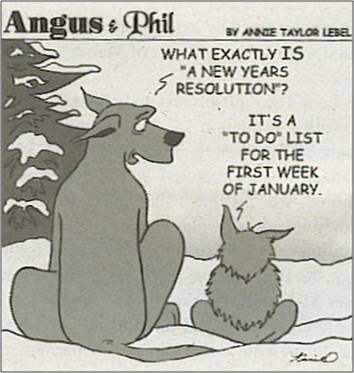 And since we are all dog owners here, why not include a list of declarations to make on behalf of our pets, too.

To help get you started, here are a few fun as well as beneficial things you could begin doing in 2014 that could have a positive impact on your dog's day to day life.

Dog Inspired Resolutions
More New Year Resolution Ideas for Dog Owners

If you've had your dog for awhile and are already performing most of the items on the list above and want a few more suggestions, here are some other ideas you might want to consider when making your doggy New Year resolutions list.
I vow to...

Keep up-to-date on my dog's heartworm meds, vaccines, & flea protection.

Help control the overpopulation of pets by having my dog spayed or neutered.

Take my dog on a road trip this year. (See:

Traveling with your dog

.)

Get more involved with my community in ways that would also benefit animals too:
---
These are just a few ideas. I bet you will come up with some other great things you could begin doing this year that will make a positive impact on your dog's life and we would love for you to share them with us in the comment section below.
And finally, and most importantly... Just be sure to live in the moment with your Miniature Schnauzer. They are our joy!
A house is not a home without a Mini Schnauzer!

A Miniature Schnauzer's New Year Resolutions
I will not run around the back yard with Mommy's underwear.

I will not roll around on stinky stuff.

I will not roll around in mud immediately after my bath.

I will not bark every time I hear a door bell ring on TV.

I will not play tug-of-war with Daddy's underwear when he is on the toilet.

I will not use Mommy or Daddy's slacks or even the sofa furniture as my personal face towel.

I will not race the humans up and down the stairs.

I will not hog up the entire king size bed.

I will not insist on having the car window rolled down when it's raining.

I will shake the rainwater off my coat before entering our home.
BTW Mommy, How long do New Year Resolutions last again? BOL!
When times get tough, remember our doggy motto here on Schnauzers Rule:
"Handle every stressful situation like a dog. If you can't eat it or play with it........ then just pee on it and walk away"
| | |
| --- | --- |
| HAPPY NEW YEAR, AROO | |
Remember to send family and friends a free Schnauzer Ecard and wish them a Happy New Year!
May every day of the New Year bring you peace, prosperity, happiness and lots and lots of Schnauzer smoochies!
Search Schnauzers-Rule.com
Custom Search
What Resolutions Have You Made for the Upcoming Year?
---
Go from New Year Resolutions to About the Miniature Schnauzer on Schnauzers Rule

Go from New Year Resolutions to Dog Safety Holiday

Related Topics:
★ Dog Holidays
★ Schnauzer Halloween
★ Dog Articles