Miniature Schnauzer Rescue Info
Miniature Schnauzer rescue groups work very hard to rescue, rehabilitate, and re-home these wonderful little dogs that somehow found themselves homeless due to no fault of their own. Whether they were picked up as strays by the local authority (Animal Control) or were turned in by their owners or rescued somehow from an abusive situation, they are all loving little dogs in need of permanent, loving homes.... Could it be yours?
Why Adopt a Schnauzer?
Mini Schnauzers make great companion dogs. They are intelligent, obedient, loving and loyal. When you choose to rescue a Miniature Schnauzer, you allow the rescue organization to open its doors to save yet another, and so on. And that one decision you made to give an unwanted Schnauzer a chance for a happy life, ended up saving so many more. There's no other feeling quite like that of saving a life.

Why So Many Schnauzers in Rescue?
There are lots of reasons why Schnauzers end up in a rescue.... take for example the most recent recession (beginning in 2007). Thousands of families struggling to make ends meet were forced to make the painful decision to give up their Mini Schnauzer because they could no longer afford to keep and care for the dog. The economic downturn coupled with all the many other reasons, have Miniature Schnauzer rescues overwhelmed and in need of adopters more than ever.
Miniature Schnauzer rescue organizations spend a lot of time and money preparing each dog for a future forever home. The Schnauzer entering the rescue is first sent to a veterinarian for a full examination. If a medical problem is detected, the dog gets the appropriate medical treatment needed for recovery and adopted only after the tending vet gives the okay. Each Miniature Schnauzer is also spayed/neutered, microchipped, dewormed, current on shots, and placed on heartworm preventive treatment.

While in their care, temporary placement is usually with with one of the volunteers' families. This allows the dogs to receive ongoing training as well as the love and attention every dog deserves. It also allows the rescue to gather hands-on information about each Schnauzer's personality and temperament, both of which are important when it comes to matching a dog with a potential adpoter.
The Application Process
Once you contact a Miniature Schnauzer rescue, you will need to submit an * application to adopt. Each application is then reviewed carefully and those that meet the adoption qualifications and requirements are contacted for an interview. Most initial interviews are done over the phone and provide both parties a better understanding of each others requirements and desires.


Shelby's Story
If both parties want to procede with the process, a face-to-face interview will be conducted. At that time, the potential adopter has a meet-and-greet with the dog and is completely informed about their responsibilities to the dog and to the rescue. If all goes well, a binding adoption contract is signed.
*note: Each Mini Schnauzer rescue has its own adoption policies and procedures.
Miniature Schnauzer Rescues have the dogs' best interests at heart. They want to ensure the Schnauzer will be going to a permanent loving home where they will be properly cared for by responsible owners.
I Rescued a Human Today by Janine Allen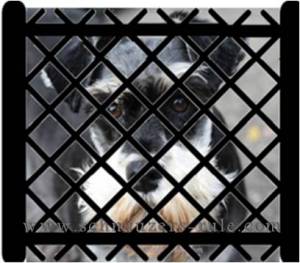 Save a Life, Adopt a Schnauzer
As she read my kennel card I hoped that she wouldn't feel sad about my past. I only have the future to look forward to and want to make a difference in someone's life.
She got down on her knees and made little kissy sounds at me. I shoved my shoulder and side of my head up against the bars to comfort her. Gentle fingertips caressed my neck. She was desperate for companionship.
A tear fell down her cheek and I raised my paw to assure her that all would be well. Soon my kennel door opened and her smile was so bright that I instantly jumped into her arms.
I would promise to keep her safe.
I would promise to always be by her side.
I would promise to do everything I could to see that radiant smile and sparkle in her eyes.
I was so fortunate that she came down my corridor. So many more are out there who haven't walked the corridors. So many more to be saved. At least I could save one.
I rescued a human today.
---
Save a Life - Adopt a Miniature Schnauzer
Get more information on dog rescues and animal shelters.
Schnauzer Rescue Groups by State A list by state of Miniature Schnauzer Rescue Groups & Organizations.
Are You Ready for a Dog Quiz Be sure to take this dog quiz to find out if you are really ready to adopt a Miniature Schnauzer.
A Stray Dog's Prayer Touching poem from the eyes of a dog needing a home.
Your Schnauzer Rescue Stories Did you adopt or rescue a Miniature Schnauzer? If so, please share your inspirational story and favorite photo (optional) to help inspire others to do the same.
Responsible dog ownership Find out what it takes to be a responsible dog owner.
Dog Costs Find out the yearly costs of owning a dog. The answer may surprise you.

What to do if you can no longer care for your dog
It's hard to imagine a day could come where you would have to give up your dog, but it happens all the time. It could be because of financial hardship or because a close relative passed away leaving the dog behind, or because your new apartment doesn't allow pets, or a hundred other reasons, but it it does happen. The most important thing you can do at a time like this is rehome your dog to a loving family.
Unfortunately, there are way too many people that just abandon their dog by dropping it off in a neighborhood, at the park, or a beach thinking to themseleves "Surely someone will come along and take him home." And there are others that just up and move away, leaving their dog behind to fend for itself. Its unfathomable to me!
The very people that promised to care and love them always are gone. And the dog is left alone wandering what happened to his home and loved ones.
Please, before you surrender your dog to a rescue or shelter, take some time to invest in his future. Write down you dog's traits and characteristics. Take some photos of you pet. Contact family, friends, co-workers, your veterinarian, dog groomer, and let them all know you need to find a loving home for your dog and could really use their help. If they are unable to adopt your dog, perhaps they can get involved by helping you find an appropriate home.
If you do find a family interested in taking your dog into their home on a permanent basis and you do not know them personally, take the time to ask them some impotant questions to ensure your dog is going into a safe loving environment. Your questions should be similar to the types of questions dog rescue organizatron might ask a potential adopter:
Do You have any other pets? If yes, how many? What kind? If no, have they ever owned any pets? If so what happened to them?

Do you own a home or rent?
Do you have a fenced backyard?
How many hours a day will the dog alone?
Where will they keep the dog during working hours?
How many children do they have and their ages?
And always ask for references and if they will allow you to come visit the home prior to surrendering your dog to them.
You can get even more questions to ask by contacting your local rescue group and asking them for help. Most rescues are more than willing to provide you with a list of questions to help you find a loving home for your dog.
If you are not successful in finding a home for your Mini Schnauzer, contact a Miniature Schnauzer rescue and let them know you need help. Prepare a packet of information about your Schnauzer including health records, traits, personality, and anything else that will help the rescue place your dog quickly. So many Miniature Schnauzer rescues are at their maximum capacity so they can't take every dog. But if your Mini Schnauzer is in good health, updated on shots, and already spayed/neutered, you chances of the being accepted into a Miniature Schnauzer rescue increases.

In the end, knowing you gave your Miniature Schnauzer a second chance to live a happy life with another loving family, will make it easier to accept the decision you had to make.

---
"Knowledge Share"...  If you found this page on Mini Schnauzer Rescues helpful and informative, please share it with your dog-loving friends by clicking on one of the share links (like facebook, twitter, and google +1) located at the top right or bottom of this page. By passing this information on, you might help save the life of a precious Mini Schnauzer!

Search Schnauzers-Rule.com
Custom Search
---
Go from Miniature Schnauzer Rescue to About the Miniature Schnauzer on Schnauzers Rule