Annual Dog Costs

The actual amount a dog costs just may surprise you. No, I'm not just talking about the purchase price of a dog, but the annual expenses as well as the time commitments involved in dog ownership.
If you ask the average person who is about to go buy a dog, how much they think the annual cost of owning a dog is, they will most likely add the purchase price of the dog to an estimated amount they think it will cost to feed the dog, and that's it. So they guess somewhere around $700 for the first year and about $300 thereafter annually. But there are so many other expenses involved in dog ownership. Let's take a look:
Cost of Owning a Dog

First you have the actual purchase price of the dog. This is usually anywhere from $500 to $1000 plus. And although this is a one time fee, if you think that it's too much to pay for a dog, you probably shouldn't get one as there are way more expenses to come....
Yearly Dog Expenses

• Product / Service
• Yearly Amount Spent
Quality Dog food
$600
Yearly vet exam
$50
Yearly Vaccines
$75
Heartworm Medication
$60
Vitamins
$100
Other Supplements
$100
Remedies
$200
Treats & Chews
$100
Flea & Tick
$120
Grooming
$600
Accessories
$100
Waste Disposal & Odor Control
$100
Toys
$100
Training Aids
$100
Boarding
$200
• Total Spent
• $2605
Just with these expenses alone, we're already up to $2600 a year to own a dog. Which by-the-way, is way more than the average person's guess of $300 annually.
Now let's factor in the average lifespan of a Miniature Schnauzer: At around 15 years.... we're now spending $39,000 a year to own a dog!

But wait, we have to go back and add the actual cost of the dog (we'll use $500 for this example) as well as any other one-time fees like:
Spay/Neuter fee of $250
Yard fence $1500 up or a wireless dog fence ~ $350 and up
Treatments & surgeries that could costs $8000+ over 15 years
And now we're up to over $49,000! That's no where close to what was originally thought by the person who... just wanted to get a dog?
And if you think that some of the dog costs listed in the chart seem a little high and you might not spend that much on a particular product or service, consider these additional items: dog beds, collars, leashes, clothing, bowls, outdoor gear, first aid, pet travel gear, crates, grooming tools, grooming products, carriers, ID tags, microchipping, dental care, and the list goes on and on.
And let's not forget yet another very important cost of dog ownership - the time commitment. You will need to spend time socializing your dog, training him, bonding with him, exercising him, and so on. Remember even after a long day at work, although you may be exhausted, your dog isn't. Your dog has been anxiously awaiting your arrival home for some play time. Will you commit to being a responsible dog owner?
So when considering purchasing a Miniature Schnauzer, factor in all these dog costs. Be responsible. Can you really afford it? Take our dog quiz: Are you really ready to get a dog? and make an honest and informed decision. It's the first of many you will have to make concerning the life of a dog.
Annual Cost of Owning a Miniature Schnauzer $3000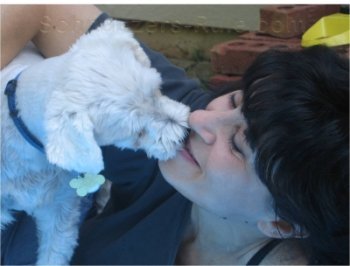 The Cost of Smoochies... Priceless!
---
Go from Dog Costs to About the Miniature Schnauzer on Schnauzers Rule
Go from Dog Costs to Miniature Schnauzers For Sale
Related Topics:
★ Dog Quiz: Are You Ready to Own a Dog?
★ Pet Insurance
★ How to Save on Vet Expenses